Auction Hunters: Season 3, Episode 2: "Ton's Driller Instinct."
Haff-Ton drove to Wasilla, Alaska.  Small town origins supply stop for gold miners and fur trappers. Allen and Ton expected to find mining equipment to historical pieces.
Fact: 2008 Republican V.P. nominee Sarah Palin was mayor of Wasilla from 1996-2002.
The crowd at the auction was large and hostile. Wasilla locals not happy to see out-of-towners. A man gave Ton the "stink-eye." Sheesh! Another fellow told Allen they wouldn't need their storage locks.
Welcome to Wasilla, boys.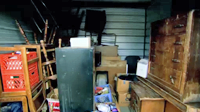 Quad Frame Unit
Microwave, quad frame, key board, copier, file cabinet, damaged furniture, Barley twist chairs, and boxes.  Duo's cap at $100; until they overheard the quad frame was rare and worth $200. Allen knew free advice was dangerous, still, he won at $140.
Fact: Four-wheeled all-terrain vehicles, or ATVs, are commonly known as "quads"
Local who stated the value of the quad frame came over to take a look at it. His expert opinion was that the frame made for a 1985 Suzuki LT250R. He bought it from Allen and Haff for $100.
Fact: Suzuki manufactured and sold the first 4-wheeled ATV in 1982.
Haff-Ton also found a mounted drill; hard-core industrial machine. Alaska ha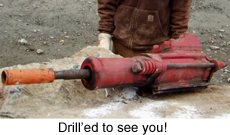 d a big mining business. This would be an easy sell.
Duo took the dill to Kevin, a heavy rock miner.
Kevin explained it was an old air percussion drill. It was very useful in Alaska. Use it to build roads needed to move mountains.
Fact: Alaska's 13,300 ft. Whittier Tunnel is the longest tunnel in North America.
It would have to drill well to be worth BIG money. Kevin tested it. Drilled right through a boulder.
Today a boulder… tomorrow a mountain.
Fact: The first percussion drill was manufactured in 1848.
Kevin bought the dill for $6,000.
Fact: Some air percussion hammers can penetrate through over 4000 ft. of solid rock.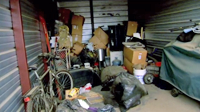 Outdoorsman Unit
Vintage snow shoes, gas can, fishing pole, ski poles, bike, treads for a snowmobile, archery case, trash bags, and boxes. Duo won the locker for $1,550.
Fact: Modern hunting bows can shoot arrows at speeds as high as 225 mph.
Allen found ice shoes. Ton discovered an Argo Response vehicle.
Keys in the vehicle and it worked. Ton was uber excited. He had never seen this type of ATV in his life.
Ton also found plastic tracks for the vehicle.
Haff-Ton took the Argo to Debbie, an all-terrain vehicle specialist.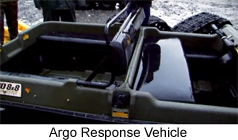 She stated the ATV was made in 1995. Could carry 1,400 pounds. Pull about 1,ooo pounds with that 18 horse power engine.
Argo was perfect for Alaska. Drive over lakes, rivers, snow; and even up Mt. McKinley.
Fact: At 20,320 feet, Alaska's Mt. McKinley is the highest peak in North America.
Most important fact was that Argos could float on water. Duo must show their Argo wouldn't sink. Debbie would pay $4,300 for it plus the tracks.
Fact: Argo got its name from 'Argonaut,' the Greek word for 'sailor'.
Allen drove on the lake. Debbie and Ton a bit concerned that Allen would sink. Not Haff. Blond boy wonder drove over water like it was land.
Sold!
Allen and Ton took a pair of fishing poles they found from the locker. Time for a little R&R. Uh, Ton hooked his ear with fishing line. Even the fishing poles were not friendly to the duo.
Welcome to Wasilla, boys.
Auction Total:
Paid $1,690
Sold: $11,000
Profit: $9,310
Please post your creative comments in the box below.