Auction Hunters: Season 1, Episode 7: "Gangster Whiskey."
Allen and Ton attended an early auction at reach Moreno Valley. Ton wasn't too happy. He said his beauty sleep had been interrupted.
At the parking lot the Haff-Ton team saw something that disturbed them – newbies. Newbies bid too high, too fast and inflate the price of units.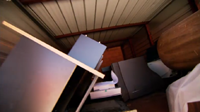 TV Room Unit
They paid $125 for a room full of old TVs. Ton hates loading and unloading old TVs. But Allen had a hunch that there might be something good behind the televisions. His hunch paid off when they found a vintage AMI jukebox.
Fact: AMI introduced the first milti-record jukebox in 1927.
Duo also discovered an old DAD-1000 CD player, which is often put inside jukeboxes after the jukeboxes don't play anymore.
Fact: Made in the early 1980's, the DAD-1000 is a 1st generation CD player.
Haff-Ton team took the jukebox to Chris, a vintage music
equipment expert. Couple of cracks on the jukebox and the back has been repainted. If it was inoperable, the valued at $700 and Chris offered $400.
Fact: Some models are now valued at over $100,000.
Ton plugged the machine and PRESTO! It worked! Chris bought it for $750.
Allen also found some baseball cards from the 60's. Haff-Ton had them appraised but were disappointed to hear that some of them were worth as little as 1/10 of a cent. But things took a turn for the better when a Willie Mays card was valued at $400-$450. They sold the whole lot for $200.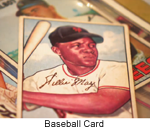 Fact: Willie Mays is considered the best all-around baseball player who ever lived.
They bid $400 to win a unit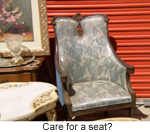 packed full of old furniture which was valued at $150.
Ton was happy when they found an old copper still and moonshine jug.
Fact: Moonshine gained its name by being smuggled by the light the moon.
 Duo took the still and jug to Brandon, a whiskey expert who ran a bar full of vintage items. He showed them how the still worked and dated it to the prohibition era.

Fact: Prohibition lasted 14 years: 1920 to 1933.
Allen joked that if they lived during the prohibition, Brandon's job would be illegal and he'd be running
speakeasy bar.
Fact: Speakeasy gets its name because one had to whisper a code to be allowed in.
Brandon noticed there was still some liquor in the jug. They all decided to taste it. Ton took a sip, while Allen wanted to see if it would burn. Boy, did it!
Fact: Moonshine is also referred to as hooch, white lightning, and mountain dew.
After a bit of negotiating with Brandon, they sold the still and jug to for $850.
Fact: When Prohibition ended, FDR declared, "What America needs now is a drink."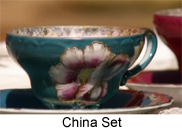 Duo also retrieved a china set from the unit valued at $200. Ton found twenty-five limited edition Barbie dolls valued at $1000.
Moonshine and Barbies, that's a pretty eclectic unit.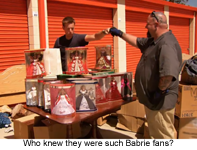 It was a successful day, but Ton still had those old TVs to unload.
Auction Total:
Paid $525
Sold: $2800
Profit: $2275
Please post your insightful and thoughtful opinions in the comment box below.