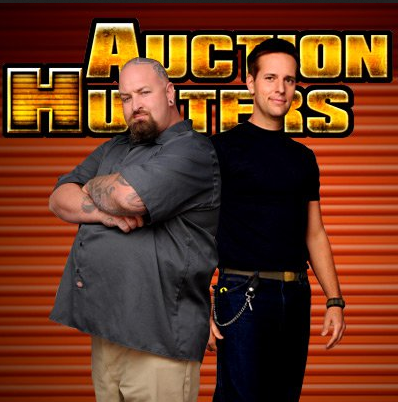 SpikeTV jumps into the arena of storage auction reality series with Auction Hunters.
The show follows Allen Haff and Clinton 'Ton' Jones as they drive to storage unit auctions in a white bread truck.
Most of the auctions they attend are located in Southern California and around the US.
The show begins with a disclaimer:
Each year, Allen Haff and Ton Jones dig through hundreds of unclaimed storage units hunting for discarded treasure. These are their stories of their most rare and valuable discoveries.
The duo claim they follow the 80-20% rule in that they make 80% of their profit from 20% of the units they buy.
It all sounds legit, right?
The show is scripted and uses paid actors and staged auctions.
Allen Haff
He learned about antiques collectibles from his parents. In his twenties he owned his first antique business in Houston, Texas. When Allen relocated to LA he attended storage unit auctions, Hollywood thrift stores, estate sales and swap meets.
Allen first appearance on TV was on Style Network's Clean House as the Yard Sale Guy. His knowledge of vintage items landed him a role in The Modern Girl's Guide to Life. Haff was then featured as a host on HGTV's hit show, My House is Worth What? The show was about how Allen appraised the value of a home and what improvements were made to it.
Haff had featured roles in the films Altered Species and Deep Freeze. He also appeared in minor roles in Just Shoot Me and CSI: Miami.
Allen founded Hollywood & Vintage, a high volume liquidation company specializing in movie memorabilia and vintage collectibles that he operates from his office and warehouse in Los Angeles.
Ton Jones
Easy to spot in a crowd as he stands six feet tall and weighs 300lbs. His expertise lies in weaponry, which includes modern to ancient guns, rifles, swords, and daggers.
Ton first appeared on TV on the documentary Dr. 90210 as himself. He was landed roles as snake and animal handler on Pit Bulls and Parolees, Venom in Vegas, and I Was Bitten.  He owns a Reptile Rescue and Wildlife Services business that manages bobcats, mountain lions and venomous snakes.
Jones discovered storage unit auctions about seven years ago when he looked for old cars to take into the desert to wreck for fun.
SpikeTV's new original series is not meant to be taken seriously but as sheer entertainment as the two actors make their way across America in the hunt for that hidden treasure inside an abandoned storage unit up for auction.
Please leave your creative comments in the box below.