Auction Hunters: Season 1, Episode 2: "The Big Score."
Allen weaved the bread truck through downtown Los Angeles road rage drivers. Not a pretty sight! Only three storage units up for auction inside a climate controlled facility.
First storage unit was a mystery because a fugly painting blocked the view. Allen placed four fingers on his face to give Ton a non-verbal bid of $400 limit. Ton agreed.
Haff-Ton team reached that limit but at last moment someone bumped bid to $450. Haff-Ton out. Allen stated there were two reasons for a last-minute bid.
Steal the room.
Cost you money.
Either way, Allen and Ton agreed to let it go. Not worth the risk.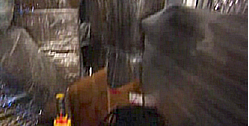 Shrink Wrap
All items wrapped in plastic, which is a good sign.
Haff won the room for $850. As the duo "unwrapped" the merchandise, they found an old school X-Box console, old tool box, metal toys cars, two-way radio for emergency communications, and an antique copper cash register.
Upon inspection Allen surmised the cash register's wooden drawer and copper construction dated this as a pre-WWII National brand cash register.

Fact: Cash registers were invented to keep dishonest employees from stealing money.
Expert stated that it was not all original but restored. Dated around 1910. Wooden drawer was original but marble was replaced with current tile. Valued at $2,500 but sold to expert for $1,900.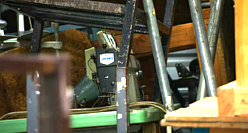 Industrial Machine Unit
Metal maze of industrial machinery. Allen counted about eight industrial sewing machines, that's MONEY! He won the room for $1,150.
Allen estimated about 20,000 pounds of metal in the room. Lots of metal racks.
Juki sewing machines made in Japan, dated pre-WWII. Type of sewing machines used to manufacture parachutes, jeans, leather, etc. Uber fast at 8000 rpm.

Ton came across a small safe in the thick of all that metal. He picked it up and shook it. Yep, something's inside, valuable or dangerous (according to Allen). Ton's way to crack open the safe.
Ton: Blow it all to (bleep)!
He didn't, thank God! Ton torched the safe and found a smoking gun, literally!
Allen: That's called a hot firearm.
Ha! Okay, it wasn't that funny. Anyhoo, it was a 9mm Heckler & Koch handgun. Front safety on the grip, fires only when fully squeezed.

Fact: German Police designed the H&K 9mm to compete with the firepower of potential terrorist.
Gun's magazine holds 8 rounds and must fire all rounds without jamming, which it did, phew! Sold gun to expert for $200.
Auction Total:
Paid: $2,025
Sold: $5,850
Profit: $3,825
Do you think Allen and Ton should have tried to sell the cash register to a private collector?
Please let us know what you thought about the show in the comment box below.