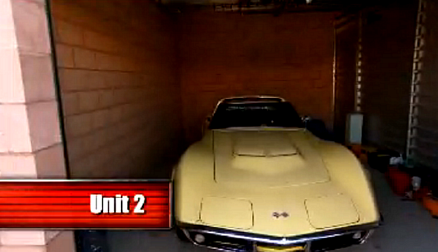 Auction Hunters: Pawn Edition: Season 4, Episode 11: "Carolyn Goes Topless."
What happens when you put a good looking blond male (Allen) at the same storage auction with a smoking hot blonde female (Carolyn)?
Fire works? Romance?  A love scene out of Casablanca?
More like trash talking, wise cracking, and you'll get yours! So I just have to ask, "Will there be a happy ending between Allen and Carolyn?"
Three units up for auction at Norwalk, California. I half expected a huge battle for each and every unit, but the first unit knocked everyone off their feet. It was the smell. Stank like Hell! Inside the unit a plethora of play houses, disorganized bags, and a boxing training torso. No one wanted to bid. Allen won the unit for $25.
Second unit knocked everyone off their feet. No stink but a Stingray. Inside a canary yellow '68 Corvette! It's not everyday you find a nice car inside a storage unit. The auctioneer allowed bidders to enter the unit but not allowed to touch the car, open the hood or trunk.
Sweet ride did not show signs of rust, spotless interior, and in solid shape but missing the two T-Tops and the rear window. Blond vs. Blonde on this Vette. But while Carolyn's focused on Allen, she forgot no-hair Ton who stood behind her.
Carolyn's timid swing of her flashlight bid went unnoticed by the Auctioneer. Ton won the car for $10,500. How did Carolyn react? She slammed her handbag against a unit door and screamed. Nothing like a woman scorned by the Haff-Ton team.
Last unit of the day loaded with neatly packed boxes, plastic containers and some furniture. Carolyn sank her teeth into this unit with a fierce bid war not only against the Haff-Ton team but anyone and everyone. She won unit at $2,100.
Let's talk about the Haff-Ton's first unit. With such a stinkity-stank-smell Allen and Ton both agreed to donate the items. By chance they came across a box and found a Kama.
Kama is short for a Ninja weapon called the Kusarigama. It's a hand weapon. Blade shaped like a sickle with a chain attached at the end of the handle. Kusari is chain and Kama the sickle.
Martial Arts weapons expert Rafael stated the weapon had red rust which is "active" rust. That dates the weapon 50-60 years old. If it had been black rust the weapon would have derived from the Japanese Koto Period between 794-1599 AD. Appraised at $500 and sold to Rafael for $300.
Now back to the Vette. Guess who found the two missing T-Tops and rear window in her unit. Carolyn offered to sell the parts to the Haff-Ton team for $4,400.
Allen: Do you understand the value of loyalty and friendship.
Carolyn: I do. They don't have dollar signs by them.
Oh, Sting!
But the boys didn't budge to buy parts for their Stingray. Could they find the missing part online? No. Carolyn paid them a visit at their pawn shop with the missing parts. She made them an offer of $15,000.
What?!
She wanted to buy the "survivor" Vette. In the auto world a survivor car is classified by the following:
Must be 20 years old
Must run at least 20 miles
Must have 50% of its original parts
Survivor cars are worth twice to three times more than a restored car. Think about it. A restored car is someone's vision or dream. A survivor car is an open canvas to pimp the ride any which way.
Carolyn and Allen agreed at $18,000 but only if the car runs twenty miles.
Auction Total:
Bought: $10,525
Sold: $18,500
Profit: $7,975
What did happen to good looking blond Allen and smoking hot blonde Carolyn. They both got into the Vette and drove down an ocean side highway off into the sunset…
Please leave your creative thoughts in the comment box below.