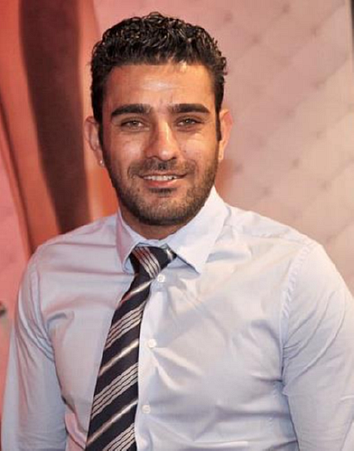 TruTV's reality series Container Wars "The Israelis" combine unique personalities into a partnership. Shlomi Aharon is easy to spot. He's good looking. Dresses like a GQ Man. He's also very strong psychically; do not to get in his way when he is bidding on a container.
He's also a successful business man co-owning several online fashion stores. Shlomi generously took time to answer a few questions for OnlineStorageAuctions.com.
Shlomi Aharon Interview
Q. What was life like growing up in Beit Shemesh, Israel?
A. Growing up in a small town in Israel was challenging because most of the community is very old fashioned about life.  Many work traditional jobs from 9am to 5pm, start a family at a young age, etc. That just isn't me.
Q. You were a paratrooper in the Israeli army for 3 ½ years. What was it like to jump out of an airplane that very first time and why did you become a paratrooper?
A. In Israel it's mandatory to serve in the army when you turn 18 years of age.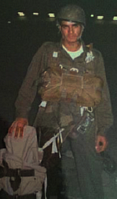 I decided to join the best unit because I like to challenge myself all the time. The first time I ever jumped out of an airplane was from 1200 feet and it was an incredible experience! The preparation for that first jump took more or less two weeks of intense training.
Q. What type of training did you go through in the Israeli army?
A. When you join the army, you lose your freedom – it's all about discipline.  You learn that no matter who you're dealing with, you have to respect your superiors. My training took around 16 months and it was tough.  We learned how to shoot; how to walk 70 miles in 8 hours; how to carry people for 15 miles if needs be, and how to be in the field for a week with minimum food and water. They prepare you to deal with the worst conditions imaginable.
Q. Who influenced you most in your youth?
A. My mother has been most influential in my life. She unconditionally supports me and truly believes if I'm happy, no matter what my goals or ambitions are; then she'll be happy.  It's very hard on me to live so far away from her.
Q. Did your family stay in Israel?
A. My entire family lives in Israel and it's difficult to be so far away from them.  I see them every year though and we talk every week. But I'm very lucky to have some very close friends here in LA and I consider them as my own family.
Q. What was your dream growing up?
A. As children, we all have dreams and mine was to become a professional soccer player. I remember we used to play every day for hours. Although that dream didn't come true, I still play soccer as a semi-pro in Griffith Park on the team AJAX FC. I play right and left midfielder and I don't like to lose!
Q. Why did you leave Israel and move to America?
A. I left Israel because I wanted to try something new. I had spent a long time in the army and after such a disciplined lifestyle where you aren't allowed to make your own decisions, I wanted to re-start and refresh my life. I wanted to dream big and there's no better place to achieve huge ambitions than in LA, or as I call it, "La La Land." I had heard so many wonderful success stories that stemmed in LA I just said to myself, "Hey, I'll never know unless I go try it."  And, so I did…
Q. How difficult was it to adjust to the culture and the people here?
A. When you come from a small country like Israel and you over here in the US it's not easy at first to adapt to the culture. The language is tough, everything is bigger and faster, but the hardest part was to meet and find true friends.
Q. Why did you get into the retail business?
A. When I first started my fashion career here in LA, I started in the wholesale business Tasha Apparel. We wanted to provide the latest fashion garments with amazing prices, so we opened an online store Salsit that allows you to shop with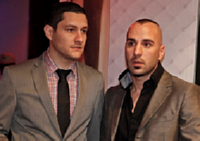 for clothing at reasonable prices.
Q. How did you meet Uzi and Eyal?
A. I met Uzi downtown LA and at first we did random business every now and then. We quickly realized that we had the same goals, drive and passion.  Shortly thereafter, we knew we made a great team and went into business full-time together. I met Eyal through Uzi.
Container Wars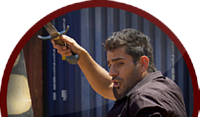 Q. How did you get cast on the show?
A. Producer called our office to tell us about the reality show. They found us online through Google. Uzi talked to them a couple of times and at first we were hesitant. But, they came to meet with us and once we heard more about the show, we knew we had to be a part of the fun!
Q. What surprised you most about being on a television show?
A. How many people need to be on the set to get everything done! It's a lot of work!
Q. Why doesn't Uzi listen to you on which containers to bid on?
A. Uzi and I have been in the business for 10 years and sometimes on the show
we have to let the other bidders know that "we are not on the same page."  Uzi and I don't even need talk to each other – we just need to look at one another and we know what we need to do. 
 Very rarely are there times that we don't agree on what to buy, but if I want something and I believe in it, I'll go all in. That's just how I live life.
Q. Which cast member is your biggest competitor?
A. None of the cast members are my competition. (smiles)
Q. What type of merchandise do you want to see inside a container?
A. The easiest things to flip are cars, antiques, and of course anything in fashion.
Q. Describe your cast mates: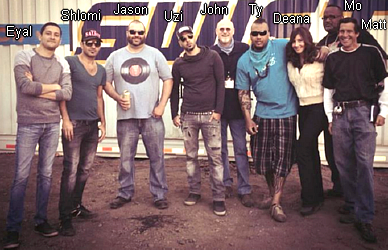 A:  John: Hearing Problem | Matt: Annoyed! | Jason: Burrito Guy |
Deana: Typical LA Girl living in "La La Land." | Ty: Quiet
Uzi: True friend | Eyal: ? | Mo: My Black Jew
Q. How do you spend your down time on the set when the cameras are not rolling?
A. Mo and Uzi and myself hang out.
Q. Who annoys you most on the show?
A. Matthew!
Q. Which cast member (other than your team) do you you get along with most?
A. Off course Mo is my black Jew brother.  He is funny, he is honest and he is very smart.
Q. How would you describe the show?
A. The show is funny, intense and challenging.
Shlomi enjoys chatting with his fans. Please "Like" his Facbook fan page Shlomi Aharon: https://www.facebook.com/shlomi111. Also be sure to "Like" his fashion store at Salsit: https://www.facebook.com/salsitstore.
Q. You are currently single. What do you look for in a mate?
A. I'm at a point in my life that I want to start a family and I'm looking for a woman that I have several things in common with; that she has values, not diamonds (laughs) as a priority. That she can be a good mother.
Q. What was it like for your family and friends when they saw you on that first episode on TV?
A. They were beyond proud and supportive. It was never my dream to be on TV, so it's really just icing on the cake. The cake is really being a successful business person.
Q. What is your favorite place that you have traveled to in the world?
A. Thailand is the most relaxing place in the world. I call it the land of the stress free!
Q. How important is Judaism to you?
A. Religion plays a big part in my life. It guides me every second of my day and

affects my business decisions. Judaism was a big part of my upbringing and I want to make sure it's relevant in my future family's upbringing as well.

Q. What motto do you live by?
A. Harm is human, to forgive divine.
Q. What's your best attribute?
A. Kindness.
Q. What's your worst attribute?
A. I'm too kind!
Q. What's on your bucket list?
A.  To start a family. Without that, everything else is meaningless.
Q. How would you like to be remembered?
A. As a good person.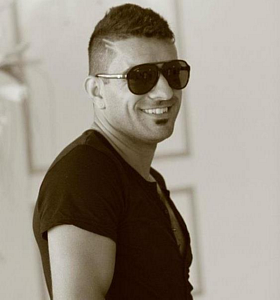 He is a business man. He is a warrior. He is a star.
Container Wars airs on TruTv. Check your local listing for showtimes.
Please leave your thoughts on Shlomi's interview in the comment box below.