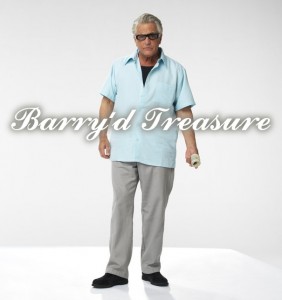 For many fans, Barry Weiss's departure from Storage Wars was a serious blow.
His larger-than-life personality and crazy antics added a level of entertainment to the show that nobody else could hope to match.
But there's some good news: If you've been missing Barry, you don't have to wait much longer to get your fix.
A new show, Barry'd Treasure, is set to air on 3/18/2014. The show will air at 10pm, right after the Storage Wars season 5 premiere.
This new program takes a detour from the usual storage auction format. Rather than attending auctions, Barry and his new crew are traveling the country in search of rare and intriguing collector items to add to his own eclectic collection.
To do it, he'll have to interact with a colorful cast of characters from all over the country and haggle with them to hand over their prized belongings. In that respect, the show is more like American Pickers with a decidedly quirky spin.
The format is a good fit for Barry, whose personality – and wealth – always set him apart from the other Storage Wars cast members. As a collector with plenty of expendable money and little interest in resale, the former produce-company owner has wide interests and the charm to make those interests into engaging television.
It's not clear how long the series is scheduled to run, but if it takes off in popularity it might just be around to stay.
What do you think of Barry and his new show Barry'd Treasure?
Leave your interesting and creative responses in the comments section below.