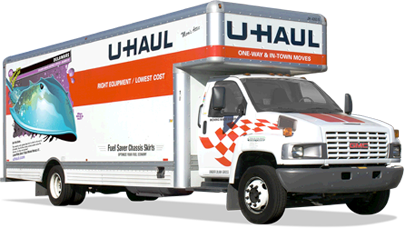 Before you purchase a storage unit at auction, you should examine the contents and ask yourself, "How am I going to move this?"
Most storage facilities and auctioneers require the contents of the unit to be moved out within 48 hours of purchase.
Some storage units contain heavy items like furniture, appliances, & large boxes.
This being said, it is a good idea to have a plan to move the contents of your next purchase.
Let's take a look at your options.
When I first started in the storage auction business, I moved everything myself. After spending 40-50 hours a week at the auctions, marketing the items I had for sale online and having to load and unload everything by myself, I was overwhelmed. It didn't take long to realize that the heavy lifting, sometimes in extreme temperatures, wasn't for me.
I began hiring 3-4 workers every Friday and Saturday to lighten my burden. Now, that doesn't mean that I wasn't there working, I just decided make better use of my time.
I would be inside the unit looking for unique and valuable items and assessing what I had purchased. After I had looked through each box, my crew would load it onto the truck. We worked at a very fast pace and it became a fairly efficient process for moving 5-9 units in a single day.
The advantage to buying several storage units per week is that if you buy a unit or two that aren't profitable, it tends to even out in the wash. Now, there is a draw back to buying several units per week.
You have to shell out a ton of cash to pay your labor and moving expenses. On average, I was paying around a thousand dollars a week to rent two twenty six foot U-Haul trucks, and rent a commercial location to have my garage sale as well as to pay 3-4 workers on Friday & Saturday.
Although I never had the chance to find out, I often wondered if purchasing on such a large scale was all in vain. If I had only focused on 1-2 quality storage units per week and moved everything myself, I probably could have made the same amount of money.
If you don't own a truck & trailer or a box truck, you may want to consider renting a U-Haul truck to move the storage units that you purchase. I'm just going to be blunt; U-Haul is the cheapest of all the truck rental companies and the rates don't fluctuate often.
At first, I used Penske truck rental. However, I noticed that their rates fluctuated by the day. One week, it might cost me $60 dollars per truck and the following week it would be well over $100.
With U-Haul, I knew what to expect. Each twenty six foot truck cost me $39.99 per day plus mileage. U-Haul even offers a special that includes two days and 100 miles for around $120 per truck. Since I used the trucks on Friday and Saturday and usually used between 60-100 miles, this plan was the most economical.
Here are some tips if you plan to rent a U-Haul truck:
Always

ask for a newer model truck

. U-Haul has some excellent GMC trucks with lots of power and a comfortable interior. These trucks are also much more fuel efficient. If you don't specifically ask for a newer truck when making the reservation, they will stick you in older truck, with high mileage, low fuel efficiency and the ride will be rough. The quality of the ride makes a huge difference when you are moving nice furniture or breakables.
Always

check the mileage and gas level

and compare them to the levels on your contract. If there is a discrepancy, notify the manager immediately.
Make sure to

inspect the truck for damage

. Mark down every scratch and dent. Just a tiny scrape could cost you hundreds of dollars if you don't notify them before you leave.
If there is a

dolly, check to see if the seal is broken

. If the seal is broken, have the attendant place a new tag on it. Otherwise, they will assume that you used the dolly and charge you a $7 fee.
Also, be aware that these

trucks get 10 miles per gallon

at best and the fuel & mileage costs can really add up quickly.
If you would prefer to buy a box truck, there are plenty available at a reasonable price. On the low end, you could get an 80's model, 26 foot moving truck for around $3500.
If you would prefer something a little more reliable, you can find some pretty nice moving trucks in the $7,500 -$15,000 range. You can contact the truck rental companies directly to find out how to purchase retired vehicles from their fleet. Another valuable resource is CommercialTruckTrader.com.
Here are some of the things you will need for your move.
Moving blankets
Boxes or plastic storage containers
Packing tape
Box cutters
Rope
Latex gloves
Work gloves
Dolly
Tie down straps
Wide push broom
Dustpan
Drinks
Large contractor trash bags
Set of bolt cutters just in case to cut a lock
Most auctioneers will specify that the unit is to be completely emptied out and broom swept in 48 hours or less. Some storage facility managers will give you a little more time if you ask nicely.
The auctioneers will also tell you that you are not permitted to use the storage facility's dumpster to dispose of the trash in the unit.
My final advise is to always leave the storage unit clean. Failure to do so could get you banned from attending auctions Please leave your creative comments in the box below.