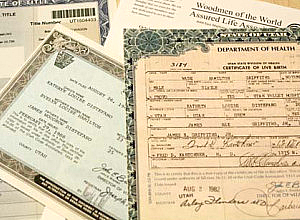 Thanks to the popularity of shows like Auction Hunters and Storage Wars, more people are interested in storage auctions as a way to make money.
As novices flock to auctions, it's important to understand exactly what they're getting into.
While it's certainly possible to find some real treasures in an abandoned storage unit, it's more likely that you'll find a lot of units filled with household items, trash and personal memorabilia with no real value.
Once a unit has been sold, it's the winning bidder's responsibility to clean out the unit within 24 to 48 hours.
All items inside the unit must be moved and stored or disposed of within that time frame.
While this may not be an issue for expensive goods that you can resell, it can pose a problem when you run across personal items from the previous tenant.
Items such as:
Tax documents
Passports
Identification Cards
Vehicle Titles
Social Security Cards
Credit Cards
Birth Certificates
Marriage Certificates
Marriage Licenses
Divorce Papers
Diplomas
Checkbooks
Urns containing the ashes of deceased pets or relatives
Photographs, Scrapbooks, and other Personal Memorabilia
Letters and Correspondence
People may not realize that they won't necessarily get these items back if they fall behind on their storage payments. They may not even realize that these items have been stored.
A move can be strenuous and stressful, and it's easy to forget what items are packed in which boxes.
Because memorabilia and personal documents are rarely used, a person could keep them in storage for years before realizing they were gone.
As a treasure hunter, these items are worthless. They may mean a lot to the previous tenant, however, and so auction hunters are faced with the option of what to do with the personal contents of a person's abandoned storage unit. There are generally three main options:
Attempt to find the previous owner. Their information may be easily obtained from the storage unit's owner or the documents themselves. You can contact the tenant and explain the situation and offer to give back the sensitive items. Most people will be relieved to get back Grandma's ashes or their high school yearbook. This can go badly, however, if the person gets angry at you for buying their other belongings. You'll need to tread carefully when approaching this situation to avoid potential altercations.
Leave the items with the storage company's manager. You can leave the items at the front office for the tenant to pick up later. Not all managers will be willing to hold items for previous tenants, but it can help prevent unpleasant interactions. This may be the best option if you're unable or unwilling to get in contact with the tenant.
Discard the items. For some auction hunters, tracking down previous tenants is too time consuming. You're under no legal or moral obligation to return items to their owners, so you can throw away anything you have no use for. If you do dispose of these items, however, do the previous tenant a courtesy and do it properly. For example, try to shred or burn personal documents rather than throwing them in the trash where an identity thief could come across it.
Reuniting items with their proper owners isn't your responsibility, but it may help you feel better to know that these personal items are back in their owner's hands.
No matter what you choose to do with the items in your storage unit, it's worth having a game plan in mind in advance so that you can move swiftly to resolve these types of issues.
Please leave your insightful opinions in the comment box below.