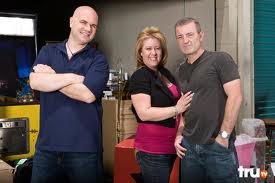 Storage Hunters, what a clever and unique name for a storage auction reality show; how ever did they come up with a name so catchy?
It looks as though TruTV is trying to cash in on the millions of viewers that shows like Storage Wars & Auction Hunters attracted, by spinning off of their failed storage auction reality show. TruTV timed the premiere perfectly, while Storage Wars and Auction Hunters were in between seasons. Since I can't watch Storage Wars or Auction Hunters, this seems to be the only other option. It should be entertaining none the less.
The new show features former boxer Brandon Bernier and his wife Lori. I wasn't able to find any information on Brandon's boxing career which might explain why he got into acting. Apparently, Brandon and Lori Bernier are the Husband and wife duo that were in TruTV's original attempt at a storage auction reality show, "Forbidden Storage," which miserably flopped. It was tagged by critics as the most fake & most hated show on television. Despite it's negative reviews, it appears that "Forbidden Storage" is getting a second chance under a new name. The last thing storage auction buyers need is another reality show about our business. The other shows did enough damage and things were just starting to level out a bit.
Recently, I watched a video by the "storage auction guru" who said that the release of this show was going to be a good thing for storage auction buyers. This guy has been out of the business for a while and has lost touch with what is really going on. Perhaps they should give him his own storage auction reality show. The guru said that because of the increased amount of traffic at flea markets, it is a good time to be in the storage auction business. I believe he was insinuating that the reality shows have had a positive impact on vendor's sales.
In my opinion, this new show can only cause further damage. The more popular the storage auction reality shows get, the more people we will see at the auctions. The more people who attend the auctions, the higher the bids go. It doesn't matter if you see an increase in sales if you can't buy a storage unit at a reasonable price.
So, what is your opinion of the new show Storage Hunters? How do you think it will effect the storage auction business? Leave you interesting and creative comments below.