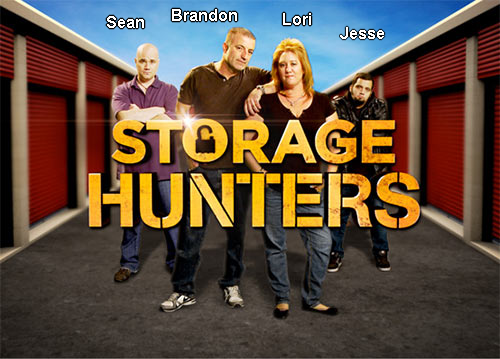 TruTV catapults into the storage auction reality pool, but instead of featuring the buyers as they bid for defaulted storage units, it's the auctioneer who holds the spotlight. Format of each episode features four storage units up for auction.
Auctioneer Sean Kelly
Military veteran who worked as a translator and interrogator during Desert Storm. Life as a civilian he helped launch nine magazines for United News and Media. Sean then became a development manager for The San Diego Reader.
During his off time, Sean embraced a new hobby as a stand-up comedian. He eventually opened for comedians such as Dennis Miller and Bob Saget.
The first auction Kelly conducted was a charity fundraiser for the American Cancer Society. With his new focus on stand-up and auctions, Sean left the business world to travel across the US conducting both storage and charity auctions.
As an auctioneer Sean is aggressive, foul-mouth, and off-the-wall entertaining.
Brandon Bernier & Lori Bernier
Brandon attended auctions when he was seventeen years old. A twenty year veteran of storage auctions makes him the most competitive of the group. He founded Beantown Bidders. He met Lori and they became an explosive business team traveling around the US attending auctions. They moved to Southern California to continue to expand their business.
Jesse McClure
He dons long Elvis-like sideburns but lacks the rock star's charisma. Jesse has been buying and reselling merchandise since the age of eleven. McClure's family owned and operated one of the largest antique malls in Los Angeles County. Jesse learned every aspect of resale from hosting garage sales to selling at swap meets.
Jesse is the youngest of the cast and over eager to prove himself as a serious buyer to others. He's not afraid to cross the line, to overbid, or to engage in personal attacks.

Ron "Papa Bear" Kirkpatrick
It's not what he's good at; it's what he's NOT good at. He became a jack-of-all-trades when he lost his job. He discovered there was money to be made at storage auctions and began to attend them in and around Southern California.
Ron loves his low-rider and formed his own car club. He's not the brightest crayon in the box, but if he wants a storage unit, nothing will get in his way, not even good ol' common sense.
This is the only auction series with body guards who are clearly visible during the show. Is this a staged and scripted reality series? You decide.
Please leave your insightful thoughts in the comment box below.