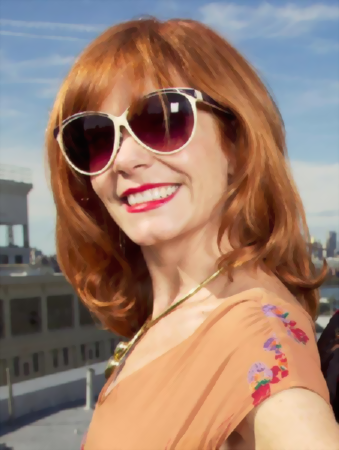 A&E's reality series Storage Wars: New York star Candy Olsen is the feisty half of the "Brooklyn Hipsters." She co-owns C&C Pop-Up Shop with her long-time spirited friend, Courtney Wagner. Candy is an unstoppable force at auction. She's a femme fatale in a vintage dress and high-heels who gets what she wants, when she wants.
Candy was generous to take time out of her busy schedule to answer a few questions for Online Storage Auctions.
Candy Olsen Interview
Q. You were raised in Agoura Hills, California; what was life like growing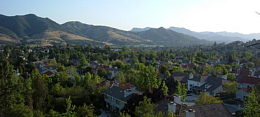 up?
A. Moving to a classic very vanilla suburb of LA from Aspen, Colorado was strange. Weekends I spent with my best friends who lived in Malibu lake in an eclectic residential area full of artists and former hippies. During the days we would dress up in costumes and roam about the neighborhood, run into the hills and build forts. It was amazing those first few years with so much freedom.
I didn't have everything growing up but the one thing my dad always said to me was make friends. So I did. During the summers there was a beach bus for a buck each way to Malibu. Being the only child and both parents worked; I was in every club, on the diving team, a thespian, cheerleader, dance, and gymnastics classes 6-days a week after school until 9:30pm.
I admit I was lucky and loved being active, but the closer to graduation I realized DANCE was what I wanted and I couldn't wait to get out of that town. Five days after graduation I left for New York to join Joffrey Ballet summer program and then won a scholarship program at Alvin Aileey American Dance Center.
Q. Who influenced you the most in your life?
A. My mom shlepped me here and there and I wouldn't be where I am today without her. The words that pass through my head still on a weekly basis are from my Dad. It was my pop's words that molded and carved my views into what they are today.
Treat others as you want to be treated.

Boys always want to get into your pants.

Always give 150%.

And you can do it all.
Q. What TV projects did you get cast at the age of six?
A. I think my favorites were a Kool-Aid commercial because my entire day consisted of drinking my favorite beverage and carrying on with the girls next to me. A spot for Friendly's Family Restaurant because I got to eat a dozen sundaes and at least 4 hot dogs. I also had the chance to meet Mr. T and that was super cool because my dad and I were huge fans.
Q. You attended LA County High School for the Arts and at the age of 17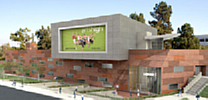 moved to New York to attend Joffery Ballet School. What was it like attending performing art schools?
A. I went to LACHSA for my sophomore year and LOVED every day I was there. Each person wished to create their own world, style, and thoughts. I never got the side eye glances for wearing costumes to class like I did from my friends in Agoura.
I was supposed to be different there and it felt good. Unfortunately, at the end of the year, I had to go back to Agoura High. But this time I went back with serious personal mojo. I couldn't care less who thought I was weird for wearing a table cloth for pants and see-through silk tops!
Q. What was it like to have joined the New Jersey Ballet?
A. Dream come true. I couldn't have imagined anything better than dancing 8 hours a day. I was, however very naive and didn't understand the catty, backstabbing behavior that occurred.
I stayed in the perimeter of the room to read and danced my heart out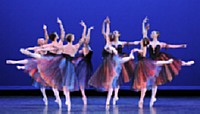 when I had the chance. As dancers, we made literally no money. I had 3 roommates who taught me how to do everything on a tight budget. I ate spaghetti sauce from tomato paste and seasonings; happy hours; ate a lot of cheese sandwiches, and large iced coffees. Dessert was a handful of frozen grapes.
And we could party like no one else! Each of us would take $5 with us and go to this one party with free boxed wine and they didn't card! We'd get buzzed there first then another $5 to get to the next place and another $5 to get home; dancing the whole time. NYC is FUN when you're young!
Q. What was it like to be cast in a national tour of the Phantom of the Opera?
A. On a layoff from ballet I went home to LA and while I was there I heard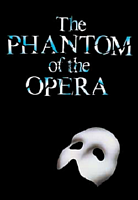 about auditions for the show in San Francisco. I auditioned and got called two days later. It was hard being underage and on my own as most of the cast were older and locals, but I made the best of it. I took acting classes, ballet classes, and hung out with friends.
After a year I decided to move back to NYC to try to get into another ballet company. Couldn't get arrested for about a year and a half; sometimes 2 -3 auditions a week I'd get cut at every one. Then one day I'm in ballet class and my old boss from Phantom of the Opera was there. After she saw me do a combination with the class, she asked if I wanted to go out on the road for the national tour – I said YES!!!
I was a "swing" which meant I'd be flown in for a dancer's vacation or injury to cover that track then return home. I did almost all of the ballet girl's tracks and traveled with the show for 3 years.
Q. You were cast as a dancer in Celine Dion's New Day Show in Vegas in 2003. What was that experience like for you?
A. Auditions were two days of every dance discipline, a lot of improv, acting, and singing. It was like they were accumulating psychological data on each of us through our performances. Then 8 months later 50 dancers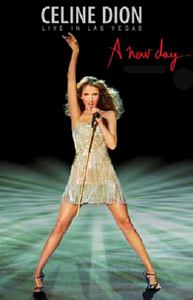 from around the world were flown to Belgium to start rehearsals for 5 months; then 4 more months in Vegas before the premiere.
We worked 5 days a week in ballet, gymnastics, aerial training, singing or percussion, and then 4 hours of improv. Over the 5 months we created over 25+ hours of incredible dance. Everything we created was a possibility but not necessarily IN the show. It was all about finding the most unique unfiltered uninhibited physical expression and using it to tell a story and then months later putting it to a song in the theater and making it work.
I would go to bed at night and praying, "Please God help me be spontaneous and not think, just to do something the director's never seen before that no one has ever thought of." Sounds silly but we all did. On the weekends we would travel taking cheap flights to Italy or drive to France and Holland.
When we got to Vegas there was a lot of drama and many changes. The show changed drastically but the truth is Celine, no matter who was in front of her or around her, she was the star. Unequivocally I can say she's amazing. It was Incredible listening to her every night. We all had the world's best job and were treated like artists.
All 50 of dancers from around the world still keep in touch and see each other often.
Q. You also graduated from United Stuntmen's Association's International Stunt School; did you plan on becoming a stunt person on film or television?
A. After Vegas I moved back to NYC and got a new apartment on my own.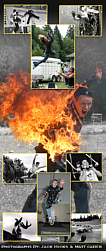 Every place in NYC is expensive to live and I wasn't booking work; it was a very dry, dry year. So, walking around the neighborhood I found a stunt school. I walked in, talked to the owner and a week later was teaching Trampoline classes.
I grew up a gymnast and have been a professional aerialist as well. I thought maybe I could get into this biz? I took martial arts – loved it. I went to a shooting range – loved it. The next step was to get an opportunity to do crazy stunts. I researched online for the best schools in the country and one that offered the most amount of training; this was it.
I got lit on fire, fell from a 35 ft. genie lift, took a stunt driving course, performed fight scenes for camera, learned how to get sucked backwards, and  thrown through the air. Two weeks after I graduated I was in Twyla's Thwarp's (renowned American dancer/choreographer) apartment, so I never had the opportunity to really pursue the stunt career. I still think about it. I would LOVE to get into a fight, run to a car, peel out and then slide into a parking space, hop out of the car because I'm on fire. Come on!
Candy Oslen and Courtney Wagner sell merchandise online at C&C Pop-Up Shop or at Etsy. For the latest news and information be sure to check out their company's Facebook page at C&C.
Q. How did you get started as an auction hunter?
A. I got started on the auction scene a few months or so before Courtney and I found out we got cast to join the show. We went to more storage auctions to see what we were getting into on that level and to get a feel for the biz before we started filming.
I'd say our expertise definitely doesn't lie in the storage auction biz yet; it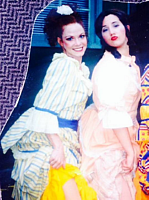 lies in our years of hoarding, collecting vintage and our obsession for old unique and the eclectic. I think I can say we were both nabbed by the adrenaline rush and excitement of taking the gamble. It drew us in and we got hooked. Since then we've ventured into all types of auctions and sales. Variety is the key!!!
Q. How did you meet Courtney?
A. Initially we met years ago doing musicals at the Hollywood Bowl in LA . These shows were – Wam, Bam! One week of rehearsal and then one shot; a single performance. So, we didn't get to know each other very well then. Years passed and a mutual friend of ours talked about the other and how we needed to meet. A few weeks after we reconnected, Courtney remembered we had already met. We hit it off immediately!
Storage Wars: New York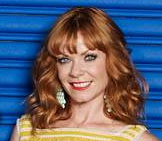 Q. How did you get cast on the show?
A. The same mutual friend who introduced us asked if we were interested in being in a reality series about thrifting. We said – "Hell, Yeah!" We strategized and exchange ideas; then we shot the demo. That was so much fun and Courtney is a F'ing riot to be with. Producers for Storage Wars: New York called our director and asked if he could recommend any women. A week later we were in Courtney's apartment filming for our audition tape and a month later we got the call.
Q. You wear a dress and high heels to a storage auction and then climb precariously up over a mountain of merchandise inside a room… are you crazy?
A. Well, yes I'm crazy!!! Absolutely! But I've also been wearing 3-inch heels for years everyday for shows, it almost feels like a necessity. I think you gotta dress for success. Look like what you want everyone else to see and think "vintage" when they see us on the show.
And in our business, we are representing ourselves and what we are trying to accomplish. Branding. I also felt when we started filming, that going to auctions was like going to war and for us, that was putting on our finest heels and a dress which was our best defense against all that testosterone.
Q. How many auctions do you hit a month on average?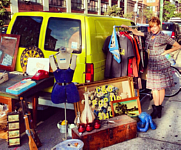 A. During filming we would go to 4-6 a month; but in the off months I'd say we are more focused on trying to sell all the cool stuff we bought, so maybe 1-2 a month with an estate sale in there every now and then.
Q. How did you find a love for all things vintage?
A. There was a consignment shop on my corner were I grew up and my mom and I would literally go there everyday after school. I'd try on everything in the store and was always drawn to the crazy prints, complicated textiles and fancy buttons I didn't see at other stores. At school I made it my mission to never repeat an outfit all year.
Thrifting and our corner store made that possible. I knew no one else would have the same shirt or coat. I was also fascinated with anything old, things that contained history and a story were like treasures to me. I knew that when I'd find something old, it was one-of-a-kind. Over the years I've collected hats, bags, coats, shoes, tea pots, and Swarovski crystal necklace and bracelet sets.
Q. What has been your most favorite find in any auction?

A. That's a tough one. We have found so many amazing things and a lot of it I wish I could take home with me. One might be the fuzzy ape we found which I lovingly call Mike B. He goes everywhere with us in the Banana Van and rides shotgun. Then maybe the 50's floral couch in New Jersey or the vintage Japanese round ice ball maker was pretty awesome!
Q. Describe your cast mates:
A.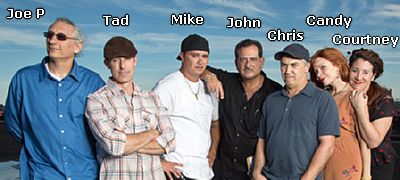 Mike: Bad Boy | JoeP: Mule | JohnLuke: New York | Tad: Charming | Chris: Loud
Courtney: Firecracker (smiles) just like the show says, it definitely suits her!!!
Q. What surprised you most about working on a reality television series?
A. I think what's incredibly unique to this genre of TV, and I'm not sure if it's the same for everyone, but it felt like we were all in the trenches together. Crew, cast, creative… there were no favorites or favors and it was hard work. Definitely bare bones and often times challenging.
We would change in the van, or the bathroom of a storage facility, or at Dunkin' Donuts. No mirrors, no breaks, no craft services, or make-up people. No one helping us clean out the lockers and load up the contents. Just us. Not glamorous. But at the end of the day, I'm 100% grateful and it is a total roller coaster ride I'd get on again any day!
Q. Courtney is the common sense that curbs your spending; why do you go crazy on bidding rooms?
A. I'm an incorrigible, curious person and I love to push the limits. I also always want to be the best, so unfortunately my competitive but not necessarily smart side wins and I raise my hand for a bid beyond what we had discussed; much to Courtney's frustration. I feel like I get the game, I do. But I'm still learning and it takes some serious finesse to win at the auctions. My  lack of experience during the bidding wars I try to make up for with instinct (smiles). I'm impulsive to say the least.
Q. You and Courtney take what you do seriously but with serious fun; why do you think you both appear to have more fun than the other players?
A. Because nothing is worth doing unless you're having fun. Seriously, life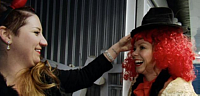 is too short and we are both huge hams. Laughing is a great way to relieve stress and lighten the mood. It can get super competitive at those auctions. We also grew up asking our parents to go to thrift stores flea markets and garage sales so we could dig through other people's stuff. To us it's one of the best parts going through each room and discovering all it's secrets and treasures. We love what we are doing.
Q. How would you describe the show?
A. It's a fun, quick-paced, informative family show.
Candy likes to keep in touch with her fans. You may "Follow" her on Twitter at @candyleacane.
Q. You're single, what do you look for in a date or mate?
A. Someone who makes me smile, laugh and I can really be ME with them, crazy and all.
Q. What was it like for your family and friends when they saw you on that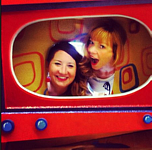 first episode?
A. My friends and family are pretty used to me doing crazy things and making leaps career wise. They are proud, I think?
Q. What are your pet peeves?
A. Negativity and selfishness.
Q. How do you relax from it all?
A. I love a good movie, a book, and a glass of wine or two (smiles). A delicious  dinner with friends. Working out. I get stir-crazy bitchy and pent-up if I don't work out.
Q. What mottos do you live by?
A.
Treat others as you wish to be treated.

Give 150% always.

Do what you love.

Don't give up.
Q. What's your best attribute?
A. Sense of humor.
Q. What's your worst attribute?
A. I am very literal to a fault.
Q: What type of dance class do you still take and is dance always a part of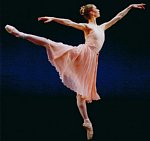 you?
A. Yes, I will always be a dancer at heart. I take classes and never refuse a gig. I'll probably be one of those "crazy" old ladies in the back of ballet class wearing strange, un-age appropriate clothing doing my thing. I take ballet religiously; but yoga, jazz, and contemporary are never off the menu for long. Most jobs I do are jazz or contemporary, but ballet is the best base and forever my passion. Yoga helps my muscles and change it up, gets me to be more still.
Q. What's on your bucket list?
A.
Falling in love.

Having a family.

Traveling, which is endless, starting with the north of Spain across into Portugal down to Gibraltar and across to Africa, Morocco, then all of Central and South America, India, Vietnam, Korea, and Thailand…
Q. How would you like to be remembered?
A. As a good person who took risks told funny stories and worked hard.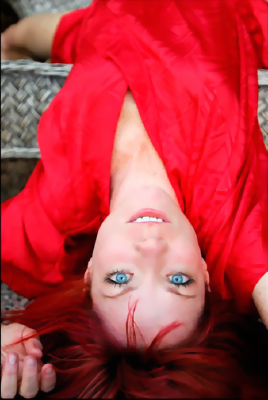 "We should consider every day lost on which we have not danced at least once." – Nietzche
Check your local listing on A&E channel for episodes of Storage Wars: New York.
Let us know your thoughtful opinions about Candy's interview in the comment box below.