Storage Wars: New York: Season 2, Episode 9: "Snakes in the Locker."
No coffee equals a cranky John Luke. Mike's wife told him to buy shabby chic. Clueless to what that means. Maybe he should ask Candy and Courtney, they would know.
Um, maybe he should hold off on that. C&C discuss their strategy for the day – Play Dirty! Not sure what they meant by that. Chris and Tad continued to agree to disagree, or disagree just because that's what they do. Joe P was in the auction zone. Not sure what he meant by that.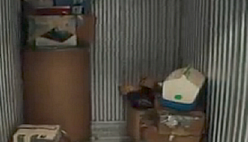 1st Room
One cardboard barrel, few boxes, and uh, yeah, that's about it. Joe P had a stupendous strategy. First he made his bids obvious then misdirected his intentions. Here's how it worked.
Bid up to a point. Joe P then said, "Let him have it." Next Joe P nodded to bid again. BRILLIANT! Mike got played! Joe P won the locker with this amazing misdirection at $425. Candy and Courtney were fooled as well.
Joe P: I'm in the business to make money, don't forget that!
And that's why he's The Legend. Joe P uncovered newspapers, magazines, small land line phone, books, empty cooler, blender, dishes, air mattress, barrel full of junk, and a collection of twenty-six pencil sharpeners.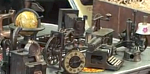 Wait, hold on now. These were miniature model type pencil sharpeners: San Francisco cable car, French phone, potbellied stove, world globe (that spins), and more. Sharpeners were made in Spain around 1950s. Valued at $700.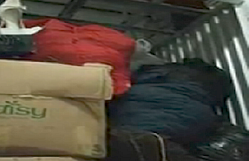 2nd Room
Bags and bags of clothing. Say it with me, 'Ugh.' Not appealing to most players, but Candy wanted the storage unit to beat the guys.
Courtney: We said we were going to play dirty, not buy dirty.
Candy had the bid bug and won at $600 for dirty laundry. What was she thinking? What did they find? Dirty laundry! Shout it with me: 'UGH!' Their surprise item

was a vintage plumber's snake. Yep, that summed up the room.
Marco kitchen sink snake with crank made in the 1920s. Not operational due to it's wear and tear. Valued around $250.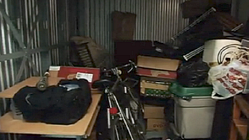 3rd Room
Bicycle, bench, rubber tubs, table, and miscellaneous household stuff. Joe P held his arm up to signal a perpetual bid.
Mike: Someone call 9-1-1. I think Joe P's having a stroke.
I think Joe P stroked your bid up, Mike. Oh, The Hustler won, but he paid big –  $1,100. I think he got played twice unless he can flip a nice profit.
Mike found stacks of CDs, bowling balls with bag, mini DVD player, shoe racks, clothes, video games, and a maple tree sapping kit.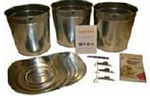 Where do you go to get that appraised? Out of Flatbush and into the backwoods. The assortment of items included an electronic tester to test the color of the maple syrup. Spiles pierce the tree and aluminum buckets with lids to collect the syrup. Total value at a whopping $26. Wah, wah, wah.
Mike,  get out of the stinking fresh air and back to the city.
Profit Scorecard:
Joe P: $350
Mike Braiotta: loss -$120
Candy Olsen & Courtney Wagner: loss -$290
Chris Morelli & Tad Eaton: $0
What did you think of Joe P's bid and misdirection tactics?
Please leave your insightful opinions on this episode in the comment box below.