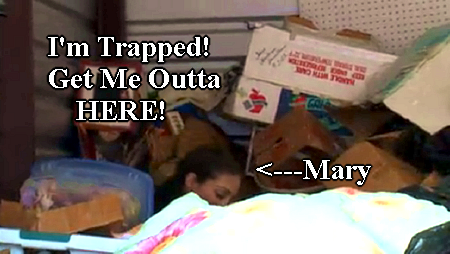 Storage Wars: Texas: Season 3, Episode 1: "Raiders of the lost Arkana."
Mary's goal to find raw materials that she could mold into gold. Victor's goal to keep his big fat mouth shut (his words, not mine). He was not to get distracted by the competition and actually win a storage unit. "Silent but deadly."
Good luck on that one, Vic. Ricky and Bubba's goal to find higher-end merchandise for their big clients. Jenny's goal was to one day learn how to climb a fence without falling over. Call her "Grace." Auctioneer Walt's goal was to one day learn how to "jiggy-with-it."
Oh, Walt, dude, you sooo can't dance!
1st Unit
Cheap furniture, lampshades, plethora of boxes, and trash bags. Only Jenny wanted this locker. Someone, however, in the crowd who would not let up bidding against her.
Jenny: Ooo, uptown country home versus uptown mobile home.
Snob! Well, trailer trash gal made Jenny pay $850 for that trailer trash storage unit. Jenny unloaded her locker with her assistant José. Small table, desk that needs a little TLC, another desk in decent shape, and a machine.
Pixie Diamond Pacific with several different sandpaper grinding wheels. It's a rock polisher for making "cabochons." Stone that has been cut and polished to use in jewelry. Machine in almost new condition. Diamonds embedded in the grinding wheels. Valued at $1,300.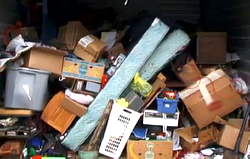 2nd Unit
A hoarder's paradise. Boxes, mattresses, bins, and everything under the sink tossed about as though a hurricane passed through the locker. Mo stated there was a plethora of stuff in here.
Mary: Plethora? If that means a ton of treasure, I think he's right.
Who else would love a junk locker but the junk queen? Mary won the unit for $800. Should I be happy for her or should I cry, can't decide. Mo opened the first piece of furniture with a lock using his scout knife. Treasure? Um, no.
Mary climbed up over the mound of mess and hurled items out of the locker. At one point she was buried so deep in the center of the storage unit, she disappeared.
Call 9-1-1, no wait, her head popped up, she's okay. Mary found one piece of furniture she might salvage.
Time for transformation at Mary's Finds shop. She gave that ugly dresser a make-over into a modern piece. She added two small mirrors on the sides and one large mirror on top. She carved a nice design on the dresser itself using a dremel tool. But would it take them into a profit? No, they both went down that hoarder's hole so deep, there really was no way out. Mo valued the piece at $575.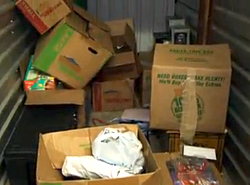 3rd Unit
Action figures, sword, and boxes. Victor, who had remained silent for half the show, won the locker for $600.
What did he find?
Half a dozen action figures and JUNK! Wah, wah, wah.
He mentioned he might be in the wrong business. Ya think?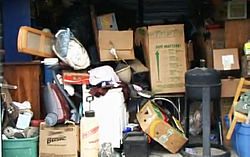 4th Unit
Grandpa's attic full of antiques, household items, and "stuff." Bid at $1k Victor shouted, "Right here."
Victor: (Bleep) it! I can never keep my mouth shut.
No matter, Ricky and Bubba won the storage unit for $1,300. Time to load up the truck. Handmade quilt, old rifle, sewing machine, and few furniture pieces. In the back Ricky found a true antique – a gun.
Bubba: That son-of-a-b… is old as Hell.
Well, not quite that old, Bubba. It's a Colt made in 1860. It's not military issue because it had all original parts. Estimated appraisal at $25,000!
Ricky: We hit the Holy Grail!
Well, more like the Civil War grail.
Profit Scorecard:
Ricky and Bubba Smith: $24,200
Jenny Grumbles: $1,165
Mary Padian & Mo Prigoff: loss of -$225
Victor Rjesnjansky: loss of -$500
Victor tried not to speak for an entire day, could you?
Please leave your thoughts on the show in the comment box below.