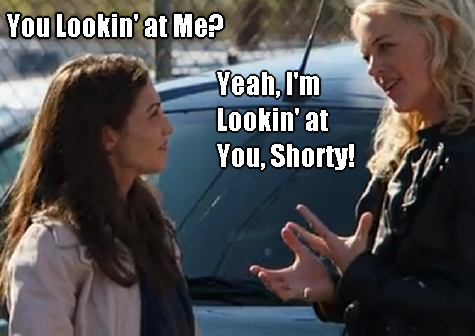 Storage Wars: Texas: Season 3, Episode 4: "Swinging with the Jenemy."
Jenny asked Mary for a favor. She had a client who wanted an industrial type piece which is right up Mary's forte. Mary could use Jenny's business sense. Frenemies or as Mary put it – "Jenemies."
Jenny: It could work or could be a total disaster.
1st Unit
Cheap wood panels, leather couches, couple of samurai swords, and quite a few boxes. David shouted out his bid, "Walter!" Jenny and turn shouted out her bid, "Yeah, Walt." Bring one British guy into the mix and everyone gets formal.
Sold to the Brit for $325. After David's "Show me the Money" celebration, Ricky quipped:
Ricky: I think that boy is a few crumpets short of a tea party.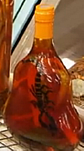 I agree. David dug through his storage unit and found a coffee maker, AB lounger, clothes, and something creepy. Three bottles with snakes and scorpions inside filled with a type of liquor made in Vietnam.
It's "Snake Wine." It was a form of rice wine that has been around for thousands of years in Asia. Used for medicinal purposes for infertility issues. However, these bottles were knockoffs, just for decoration. Appraised at $50-$60 a piece.
2nd Unit
Raw materials galore. Mary absolutely giddy at the merchandise. Lumber, bricks, and metals, oh my!
Jenny: Business 101 Mary, don't let the competition see your cards.
Mary had $1,200 on her but she lost common sense and bid at $3,250. Oh, no! She didn't have that kind of money and this was a cash-only-on-hand auction.
Mary: Great. I'm doing illegal bidding here. Illegal bidding.
The Ricky jumped in with a $3,500 bid to win the storage unit. Phew, that was close Mary.
Bubby and Ricky's workers brought the stock trailer used to haul animals and it had manure. GROSS! Good help is hard to

find. The entire storage unit was full of tools and building materials. Their interesting find were parts to a wind turbine or wind mill, of sorts.
At appraisal the miniature wind turbine could put out about 1500 watts of electricity. Enough to power two rooms. Pole missing, not good. Valued at $1,900. Not bad for wind!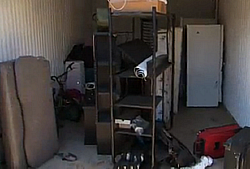 3rd Unit
In a word – sparse. Refrigerator, lamps, bicycle, table, and a few metal pieces.
Jenny: Mary is doing her little excited Chihuahua thing, so I guess this is my locker.
And it was for $300. Jenny retrieved a metal shelve piece that Mary stated was a fantastic base to make an artsy architectural industrial piece.
Jenny: Mary either tricked me or she is out of her mind.
Jenny dragged a wood shelf out of the locker and it immediately fell apart. Dumpster! A car seat for a project. Only item she had to sell were two metal side tables, a bike, and a pair of lamps. She needed a "Hail Mary."

A bit out of her comfort zone, Jenny was able to construct a swing. Used part of the metal shelf and car seat. Jenny's mother thought it was the most (bleeping) thing she's ever seen.
I suppose that ends Jenny and Mary's play dates…
Profit Scorecard:
Ricky and Bubba Smith: $1,400
David Kay: $515
Jenny Grumbles: $330
Mary Padian: $0
What did you think of Jenny and Mary's uh, swing?
Please leave your opinions on this episode in the comment box below.