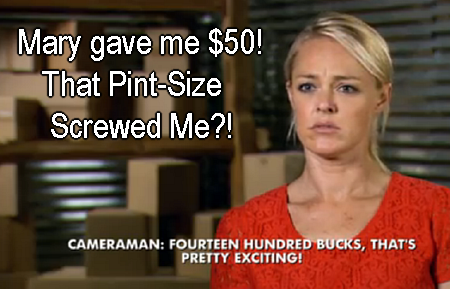 Storage Wars: Texas: Season 3, Episode 5: "It's Always Sonny in Texas."
Jenny and Mary were pumped. Since uniting forces, they've drilled themselves into a profit. Victor spent more than he made so he drilled himself into a hole. Bubba and Ricky couldn't drill into a locker and left empty-handed.
New player strutted into the office. Dressed in creased Wrangler jeans, jean jacket, cowboy books, and straw hat… "Paper Cowboy" as Bubba tagged him.
You know him as an Urban Cowboy. A guy who dressed like a cowboy but has never seen the light of day at a ranch. His name is Matt Blevins. He was an auctioneer for 20 years and now he's decided to jump the fence and become a player. Good luck with that!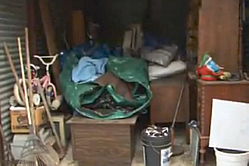 1st Unit
Old furniture, construction equipment, ladders, and a whole lot of stuff, desirable to quite a few bidders.
Jenny: Step aside, we're taking it.
That the Wonder Women duo did at $1,300.  They divided the furniture into two piles, fairly of course. Mary found a wooden candle maker piece. Jenny thought she could get $50 out of it but Mary refuted; stated it could be the first candle making device, like ever made.
Jenny: Hello 9-1-1. My partner has lost her mind.
Mary took the candle maker. Jenny found a jewelry box with pearls and a ring. Mary thought they were fake but Jenny wanted them appraised. Let's see who would score. Candles or jewelry.

Jenny's pearls were fake. Too light in weight and clasps very inexpensive. Ring was cubic zirconium and gold plated. Valued at $50. Oh, well. Jen then flaunted her engagement/wedding ring. Huge rock! Well, somebody loves her.
Mary took her candle contraption to a candle shop. It's not the first ever candle maker, but it's pretty old. Valued at $1,400.
Mary: Looks like my partner doesn't know a treasure when she sees it.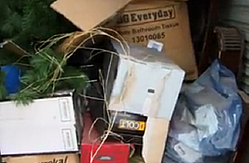 2nd Unit
Small and messy. Christmas tree, chairs, table, and boxes. Matt took a moment to talk to Jenny and Mary. Wondered why they didn't stay home and cook. Jenny said they both run their own businesses. He said they reminded him of Pat Benatar.
Jenny: How about I hit you with my best shot.
Atta girl, Jenny. That wanna-be-cowboy pure chauvinistic. Well, He won that run-down storage unit for $200. Big deal. He found a massage roll, brand new shoes, brand new jewelry box, four matching chairs (quite a mess), and a table that would need a new glass top.

Matt's strange find was a type of weight loss device. The pads were laser and designed to disrupt the fat layer and help the cellulite fat reduction. It's really does work, according to the appraiser. Valued at $900.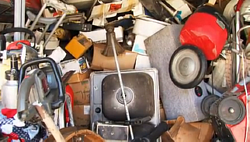 3rd Unit
Holy Crap! It's an entire house and then some.
Bubba: L.C.D. Lots of Crap and Debris.
That's Victor's kind of storage unit of late and he won at $700. He brought his neighbor Sonny to help him unload the merchandise. All the kid could say was "Wow" upon first look at the plethora of merchandise.
Victor: This locker is packed tighter than a fat man in a little suit.
No kidding! Vic had Sonny divided trash from good merchandise. The trash pile however was higher than the good pile. Nothing to appraise. Load up and take a run to the dumpster.
Profit Scorecard:
Mat Devlin: $1,290
Mary Padian and Jenny Grumbles: $1,035
Victor Rjesnjansky: $350
Bubba and Rick Smith: $0
What did you think of the wanna-be-cowboy new player, Matt?
Please leave your insightful thoughts about this episode in the comment box below.