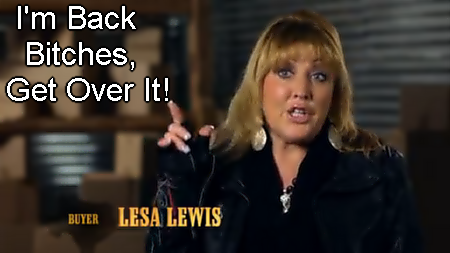 Storage Wars: Texas: Season 3, Episode 2: "Take A Deep Breath, It's Lesa."
The earth shook beneath the feet of the cast members. They looked across the horizon and they saw the Apocalypse approaching on a Harley. It was Lesa Lewis. She rode on a big bike. She dressed like a bad girl with a bad attitude with something to prove. The happy-go-lucky cast from Texas not so happy now – she's baaack!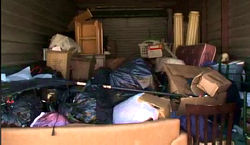 1st Unit
A huge household locker full of furniture, garbage bags, and junk. Few high quality furniture pieces in the back that everyone noticed.
Jenny: This is what I like to see, and then there's Lesa, something I never, ever want to see.
Lesa won the unit for $2,400.
Jerry wasn't too excited about digging through the storage unit, but then again he never liked hard work. Lesa grabbed a stained Ottoman. She claimed that peanut butter could take off the crayon marks.
Let me Google that. It appears that you can remove crayon marks from walls using peanut butter; however I could not find a definite source to use peanut butter as a removal for stains on furniture. Do we use crunchy or creamy, Lesa?
Most of the furniture pieces in the front were stained or broken. The freezer in the back had mold. Her unique discovery

was an oxygen tank machine. Not the kind use for medical purposes but for therapeutic purposes and fun.
Planet Peach oxygen bar with four tanks for aromas plus the concentrator machine to pump the "air." Particular flavors or scents may help with ailments. Lesa tried one for energy. A tube, like the ones you see that patients wear in hospitals to breathe, placed on her nose and the excess tube around her ears.
Lesa inhaled.
Lesa relaxed.
Lesa calmed.
THE WORLD IS GOING TO END!
Oh, wait, the calm only lasted for a few minutes. Okay, back to the appraisal. Interesting fact was that the air we breathe is only 20% oxygen. The oxygen concentrator takes out all of the other trace gases out of the air and pumps pure oxygen through the tubes with the flavor/scent of your choice. Oxygen bar and concentrator appraised at $1,500. Lesa was shocked and smiled. Not often do we see her teeth outside of a gnarl.
Lesa: The girls came on my turf and lost.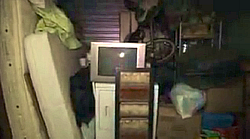 2nd Unit
Chairs, fire pit, cheap furniture, old television, washer/dryer, bicycle, mattresses, pressure cooker, boxes, and garbage bags.
Victor: Lesa and Ricky aren't putting the squeeze on me.
Victor won the unit for $850. Upon closer inspection the washing machine was quite new; however the dryer about 20-years old. He found a complete dining set and four dressers. Then there's the arm on the floor. Not a "human" arm but a medical-type arm. He found the another arm inside a case.

Victor visited a college to appraise the medical piece. Arms used to teach how to draw blood for phlebotomists, nurses, and EMTs. Technician uses fake vessels in the arm to draw fake blood. Value at around $500-$600.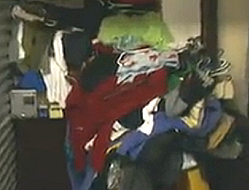 3rd Unit
The smallest unit of the day contained toys, pile of clothes, ice cooler, and a bedroom set. Victor and Lisa exchanged a few words. Upon reflection Bubba summed the conversation most eloquently:
Bubba: It's like a third-rate debate team.

Ricky and Bubba won the unit for $450. Outside of the huge pile of clothes the duo found a dresser, mirror, shoes, and an electronic box. Or as Ricky called it, "Wizard Box." It's an access control for companies. Place your thumb in the unit and your photo will appear on the box. Good quality piece valued at $900.
Profit Scorecard:
Bubba & Ricky Smith: $1,120
Victor Rjesnjansky: $900
Lesa Lewis: $320
Jenny Grumbles: $0
Mary Padian & Mo Prigoff: $0
Lesa came, she bought, but she did not conquer.
Please leave your thoughts in the comment box below.