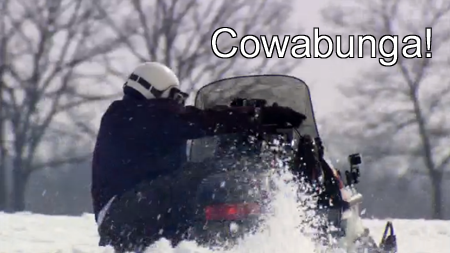 Auction Hunters: Season 2, Episode 6: "The Chicago Grand Slam."
Allen and Ton made a trip to Chicago Heights, Illinois. It was seven degrees Fahrenheit and the guys were freezing as they had to stand out in the snow for two of the three auctions.
Fact: Chicago Heights is called the Crossroads of the Nation.
Allen at least felt a little bit at home, since he'd grown up in Michigan, before fleeing to the warmer weather of LA, something that turned out to give him useful knowledge for at least one of the big ticket items they ended up finding.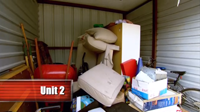 Stadium Seating Unit
They paid $100 for their first unit after spotting some trophies and sport horns inside and hoping to find some collectibles inside.
They found two stadium chairs from the 40's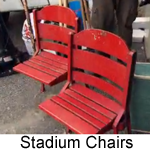 or 50's, but since they were not marked with the name of any particular stadium they were only worth about $200.
They found a Robby the Robot but as it was a newer one it wasn't worth much.
Fact: Robby the Robot debuted in the 1956 movie Forbidden Planet.
But then they opened a second box and discovered a second Robby, this one from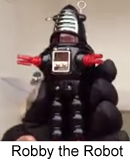 the 1950's. Allen valued it at $400 to $600.
Fact: Robby's TV credits include The Addams Family (1966), Mork and Mindy (1979), The Love Boat (1983).
They found a vintage hockey stick worth $20, a vintage baseball board game worth $50 to $60 and some vintage ads featuring Joe Louis.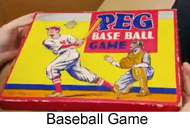 Fact: Joe Louis was one of the first African American sports heroes.
They also found an old un-webbed baseball glove, with the name Joe Jackson, and a baseball signed by Hank Aaron.
Fact: Gloves without webbing were used to swat the ball to the ground.
They took all the sports memorabilia to Scott, a sports collectables expect.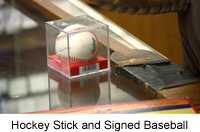 He told them the vintage ads would be worth $150 to $200 and the signed baseball about $100 to $150.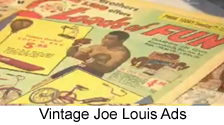 Fact: Hank Aaron was the first player to break Babe Ruth's all-time home run record.
He looked at the glove and said it was from the 1920's. He told them if the signature was authentic it probably would have been worth somewhere between $15,000 and $20,000.
Fact: Jackson's legendary bat "Black Betsy" sold for $577,610.
Scott then assured them it was definitely a fake. Hmm, he probably could have led with that.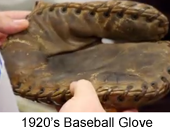 Fact: According to the FBI, 70% of autographed sports memorabilia sold online is fake.
He explains Joe Jackson was illiterate and couldn't sign his own name. So pretty good bet that wasn't his signature. Still, since the glove was from the 20's and in pretty good condition, it was still a great vintage piece worth between six and seven hundred dollars.
For the whole group of sports memorabilia, Scott paid $775.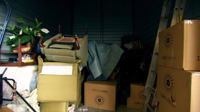 Hunting Unit
Allen and Ton paid $950 for a unit with several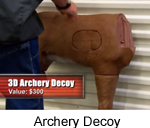 archery targets, a helmet and ladder and a few pieces of fifties furniture. Ton quite enjoyed a headless 3D archery decoy worth about $300 and they also found a mounted deer's head they thought they'd be able to sell for $50.
When bidding on the unit they had spotted what they thought was a snow blower in the back. When they lifted the tarp however, they were extremely excited to find a 1984 Yamaha SS 440 snowmobile.
Fact: Some of the first snowmobiles were modified Ford Model Ts.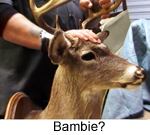 They took it to Nick, an expert and dealer of snowmobiles. He was very impressed with its condition and how clean it was, saying it was definitely a collector's item. He also explained that the 1984 model was the first to have shock absorber suspension.
Of course they had to see how well it still ran and Allen couldn't wait to volunteer, clearly still a Michigan boy at heart. He took it for a ride, impressing Ton with his moves and maybe showing off just a little bit.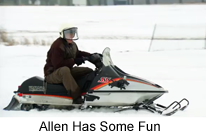 Fact: The 1984 Yamaha SS 440 has a top speed of 85 mph.
After the ride Allen wasn't entirely sure he even wanted to sell it anymore, but he couldn't say no when Nick offered $950 for it.
It might have been a cold freezing day, but the guys definitely could chalk up their day in Chicago Heights as a success!
Auction Total:
Paid $1050
Sold: $3905
Profit: $2855
Please post your insightful and thoughtful opinions in the comment box below.