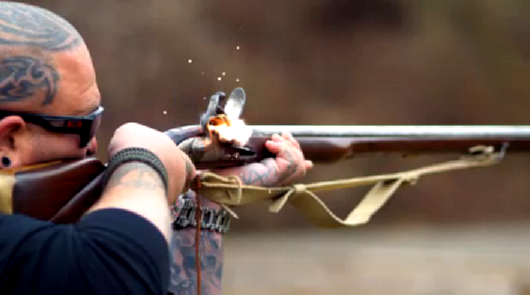 Auction Hunters: Pawn Edition: Season 4, Episode 10: "Always Money in Philadelphia."
On the road again… Haff-Ton team back in their bread truck headed 3000 miles away from home to the city of Philadelphia.
A premier antique store closed and stashed its inventory at a storage facility. Seven units up for auction.
Allen's enthusiasm for a stake on the antique treasures matched Ton's enthusiasm to bite into the best cheesesteaks in all of Philly.
The storage facility's location however tensed our Haff-Ton tough guys. They drove through a South Central mean-street area. To make matters even more unnerving the storage facility had barbed wire on top of the fence.
Rename the show to Auction Hunters: Prison Edition.
There were few peeps at the storage auction but one gentleman stood out from the crowd. Very well dressed and well mannered. I'll call him Wall Street. He ambled about, cool and collected that one. Allen mistook him for the auctioneer because he carried a clipboard.
Why would anyone carry a clipboard to an auction?
When the third storage unit rolled around Allen coveted that clipboard. Tell you why as soon as we get through the first two units.
First unit everyone's stoked. Door up. Groans. Inside the unit, a few boxes, plastic containers, soccer goal, old television and sports equipment. Not part of the antique store. Allen won the unit for $500.
Second unit, now we're talking! Boxes and crates each labeled with lot numbers. No doubt the unit was full of antiques. Haff-Ton's motto: "Go Big or Go Home." They agreed $10k as their cap.
Bid began at $2,000. Allen and Ton hopped ever so quickly to their $10,000 cap. Wall Street jumped the bid to $15,000! That's serious money, honey!
Why the clip board. It had the entire antique store's manifest. Wall Street knew what was in each box and crate. He won the 2nd unit, 3rd unit, 4th unit, 5th unit, and 6th unit.
Final unit also had a few boxes and crates from the antique store. Bids jumped from $100 to $2,000 in less than 30 seconds. Allen and Ton rung the bell and closed down Wall Street. About time guys, seriously.
Haff-Ton team dug into the first unit. Sports gear such as lacrosse, hockey stick, football pads and a football passing machine.  Allen found a potential buyer for the football machine, a former NFL player Vince Palpale.
Mark Walberg portrayed him in the movie Invincible. Vince was interested in the machine for a youth league. The JUGS passing machine can pass a football from 5-80 yards. Of course the Haff-Ton donated the machine for the kids. Aw!
Haff-Ton's second unit was not full of cool antiques, but they did find a musket. Oh, happy day for Ton.  They took the colonial musket to weapons expert Craig. He said it was a Long Land Brown Bess Musket.
The "GR" markings symbol stood for King George of Great Britain. Barrel engravings "4BNJV" stood for 4th Battalion New Jersey Volunteers.  Stamp 1762 meant it was brought over from across the pond for the loyalist to fight for the British army. Troops were expected to fire four rounds per minute.
Ton, the lone Musket-teer volunteered to fire the weapon. If it worked $15k, but if it didn't, weapons expert Craig would only pay $8k. Oh, sweet thirteen colonies, the musket fired mighty fine.
Auction Total:
Bought: $2,500
Sold: $15,000
Profit: $12,500
Did I forget to mention Ton dislocated his thumb when Allen accidentally hit him with a hockey stick? Ton used duct tape to *snap* his thumb back into place. Yeah, that was gross. Probably why I chose to forget…
Please leave your insightful opinions in comment box below.