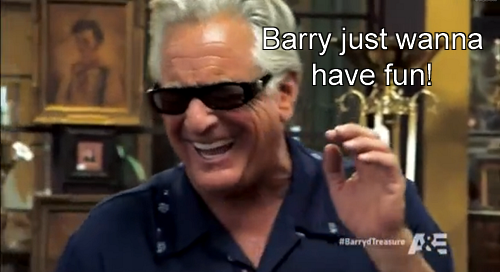 Barry'd Treasure: Season 1, Episode 2: "Kentuckyana Jones and the Emperor's Vessel."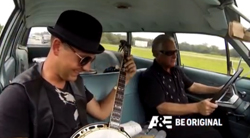 Barry drove to Kentucky to meet collector Michael. His nickname – Kentuckyana Jones. Barry brought sidekick JR to play his banjo along ride.
Barry sang, " She'll Be Coming 'Round the Mountain." Is there anything this man can't do?
The Collector
Kentuckyana Jo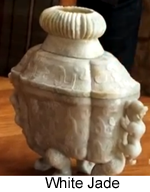 nes owned a wax museum. He took Barry back into a secret room. Ooh, the intrigue! The piece he wanted to sell was an emperor's vessel from the Han dynasty. It weighed thirty pounds and was made of white jade.
Barry: White jade? Oh the memories. Reminds me of a dancer I used to know. Talk about flexible.
It would have taken two men twenty to thirty years to carve that particular piece. Kentuckyana said it had been valued at 3.7-4.2 million dollars. So why does the guy dress so dirt poor?
The Hunt
Barry decided to take the white jade to a buyer in South Carolina. Kentuckyana went along for the ride. But first, he loaded the car with knickknacks to trade along the way. Barry couldn't make sense of the nickle-and-dime peddling when there was a multi-million dollar collectible to sell.
A few miles out Kentuckyana stopped to at a used car lot for trade. What? Used car lot trades collectibles? Michael traded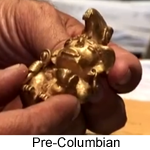 two vases and three emeralds for a pre-Columbian figurine. Barry wasn't impressed with Kentuckyana's bargaining skills.
Barry: The only time you see a used car salesman laughing this hard, is when he's just sold you a lemon.
Barry's next unexpected stop was at an antique store in North Carolina. Kentuckyana traded a pre-Columbian statue and a small topaz for an art deco mannequin. Barry still wasn't impressed.
At a gas station, Kentuckyana left the briefcase containing the multi-million dollar jade on top of the car… yep you guessed it. Barry drove. Briefcase fell. Thankfully, nothing was broken.
Barry and his crew finally reached their destination. The buyer was Clark, a white jade collector, and he was filthy-stinking rich. His house was gorgeous and filled with $$$ collectibles.  Kentuckyana tried to jump right into business after the handshake. How uncouth! Barry told Michael to take a minute.
Barry: Tact Jonesy, tact. You've got to ease into these things.
Clark showed them his collection, including a bronze ram worth $315,000.
The Sale
Kentuckyana wanted 2.5 million for the white jade.
Barry: That was a bonehead move. Jonesy opened up with his bottom number.  He's about to get lowballed and not in a good way.
Clark countered with 1.6 million, the best deal he could do. Time for Barry to use his negotiating skills and make this happen.
Barry pulled Kentuckyana aside. He proposed that he accept the 1.75 million and ask Clark to t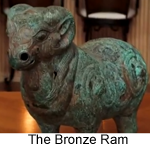 hrow in the bronze ram.
Kentuckyana or Clark a tad reluctant but they both agreed to the deal.
Go Barry!
Work was done. Time to have fun. On the way out of town Barry spotted a ranch. They had CAMELS! You know Barry could not resist a ride.
What did you think of the bronze ram deal?
Please leave your insightful opinions in the comment box below.