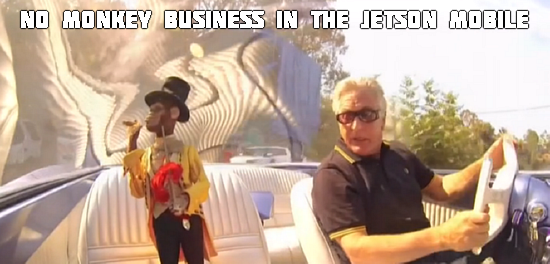 Barry'd Treasure: Season 1, Episode 5: "Show Me the Monkey."
Barry had the perfect car for a road trip. Or the worst car. It was a 1955 Ford with a glass bubble top. It gave a great view of the country, but was sweltering in the heat. We call it the "Jetson Mobile." Car of the future. Maybe.
The Collector
Barry stated that the dealer he was working for chose to remain anonymous. Dealer
gave Barry free reign to find something cool and one-of-a-kind.
Barry drove 13,000 miles from LA to Austin, Texas, to meet up with his friend Steve. He owned businesses all over Austin and knew the best collectors in town.
Barry: Just beautiful. My first Texas sunset. Let's get out and smell it.
The Hunt
Barry told Steve he was looking for something really strange, really clever, cool, classic, timeless, elegant, and refined. Glad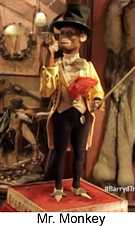 you're not asking for the moon, Barry.
Steve was happy to help, but tonight he just wanted to grab a beer and tear it up. Barry was happy in oblige.
Barry: We've got tomorrow to worry about tomorrow.
The next day Barry and his new sidekick drove to meet Charles, a collector in Austin. Barry was very impressed by his museum quality collection.
Pristine antique guns. A carved turquoise native American bolo tie. The original wooden sculptures displayed as entrance to Coney Island. One of Napoleon's dagger. One of General Custer's original guns.
An animatronic monkey caught Barry's eye. Put in smoke, wind it up, then it blows smoke through its mouth . Barry decided this was the item he had to acquire for the anonymous collector.
Barry: I actually think I've spotted the perfect item, but I really don't like Charles prices. There's got to be an angle I can work.
Barry wanted to know if there was anything to cut a deal. Ch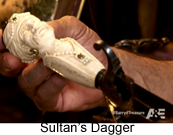 arles showed him a knife that once belonged to a Sultan. It was made of ivory and gold. It had an emerald in its hilt, right on the turban to be exact.
Charles said there was an emerald that had once been in a sultan's turban. The emerald was owned by Don, a collector who lived nearby. If Barry could make a deal happen for the emerald, he'd get the monkey as commission.
Barry: How hard can it be to get an emerald from a stranger?
The Sale
That was NOT a small gem. It was an 800 karat emerald! Holy Cow!!!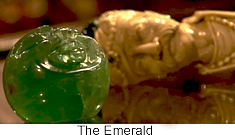 Don wasn't going to part with it easy. The man liked guns. Charles showed him a self-priming flintlock, beautifully engraved, and made in London.
Don also saw a rare Tiffany lamp worth about 1.5 million. Mongolian suit of armor. Wax figures of The Last Supper.
Don chose to swap the emerald for the gun because he was a true-blue gun collector.
Barry dropped his sidekick back at Austin. Then began the long drive to LA, alone with his monkey (that sounds so wrong on so many levels). Who was the anonymous collector who would acquire the monkey?
Barry Weiss!
Barry and Mr. Monkey lived happily ever after! (Again, that sounds so messed up on so many levels.) Which of the three collectors do you think got the better deal?
Please leave your insightful opinions in the comment box below.