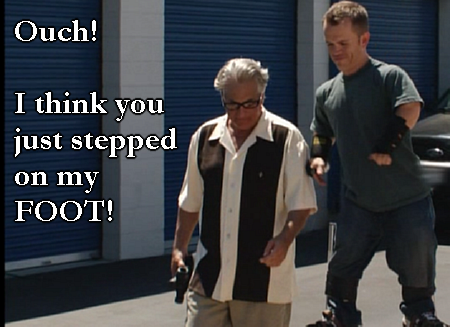 Storage Wars: Season 1, Episode 2: "Railroad Roulette."
Darrell shouted to Dave, "Go home, man!" Dave's rebuttal, "I'm gonna make sure he goes home with his tail between his legs."
Brandi accompanied Jarrod to monitor his spending on storage units.
Barry brought Jay, who is a dwarf, to wear night vision goggles and stilts to see deep inside the lockers.
Oh, let the games begins!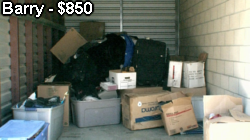 1st Storage Unit
Suitcases, rubber bins, and boxes. In a word – trash.
Brandi: Would I allow Jarrod to bid on something like this? Absolutely not.
Dave purposefully drove the price up to welcome the new people. Make them lose money and get the Hell out of the business. Isn't he a breath of fresh air? Barry won at $850.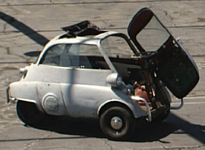 Barry and Jay walked into the unit to uncover whatever was underneath a tarp. Barry was speechless. He uncovered a German BMW Isetta. Not in the best of shape. About 50 to 60 years old.
BMW Isetta is a micro car in which the door opens in the front. In case of a collision, the sunroof becomes the escape hatch. Barry's micro car, while in poor condition, still considered a rare find. Appraised at $3000-$4000.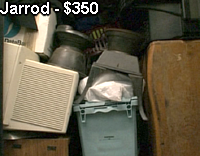 2nd Storage Unit
Reproduction pot belly stove, old television, old computer monitor, boxes, and trash bags.
Jarrod: I see mystery in here. I got to see what's in the rest of the unit.
Dave drove the price up on this blocker as well and made Jarrod pay $350. Jarrod understood Dave's tactics and that irritated him.
He entered the locker to try to find something of value. He stood precariously on pieces of furniture.
Brandi: You break your neck and become a vegetable or something. I don't know if I would uh, stick around.
True love.
Jarrod did find a Movado watch with a $950 tag. Could there be an issue?

Yes, watches are easily counterfeited. Jarrod and Brandi took the watch to an expert who stated that the watch appeared to be a true Movado watch. However once he took it apart and looked inside the mechanism – FAKE!
Jarrod: One thing is for sure… until I hit a good unit, Brandi's never gonna get off my back.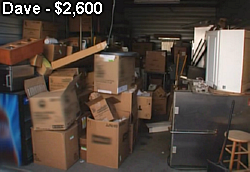 3rd Storage Unit
Commercial restaurant equipment and a ton of boxes. Dave staked this locker as his. He let everyone know it would take about three hours to unload the merchandise.
That irked Darrell to no end.
Dave: Let's face it. Jarrod and Darrell cannot handle this unit. They don't
have the manpower, the finances, and the knowledge. They are out of their league on this unit.
Dave won at $2,600. While there were no treasures to appraise, his profit margin skyrocketed because most of the items were in "like new" condition. Most items were commercial grade restaurant equipment.
Notes:
Dave paid Laura $2,600 + $40 deposit on the spot after winning the storage unit.
The merchandise was hauled back to their thrift stores instead of placed out in the hallway for inspection.
Profit Scorecard:
Dave Hester: $19,000
Barry Weiss: $3,100
Jarrod Schulz and Brandi Passante: $50
Darrell Sheets: $0
Dave had only six "Yuups" in this episode.
Please place your creative opinions in the comment box below.