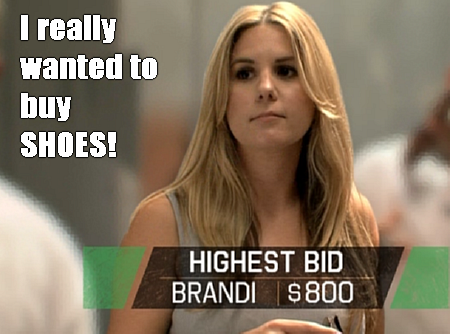 Storage Wars: Season 1, Episode 3: "Melee in the Maze."
Darrell said Jarrod would not throw him off his game. Jarrod brought Brandi to have an extra pair of eyes to look at the merchandise. Brandi would stay out of the limelight to get a fresh look at the storage units without letting others know that Jarrod was interested.
Dave: I step out of my car. I see Jarrod. I see Darrell. I think to myself, "These two sorry PUKES are here again.
They are going to be getting in my way and annoying me one more time."
If only he knew then what we know now…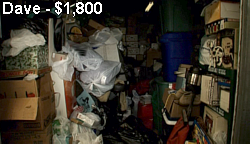 1st Storage Unit
Packed and stacked. New-in-box items, rubber bins, camping gear, tackle box, sleeping bags, and fishing rods.
Trivia: Split bamboo rods take 100 hours to construct.
Darrell pushed his bid. Dave however won at $1,800. Hester actually bought two lockers but only one was featured. Back at his Rags to Riches store to unload merchandise. Dave found two guitars, tools, camera and lenses. The majority of the merchandise however –  fishing equipment. Split bamboo and graphite rods.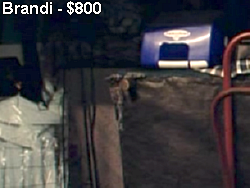 2nd Storage Unit
Pop and dandy. Red hand dolly, pots and pans, VHS movies, DVDs, CDs, boxes, and miscellaneous items.
Brandi: I think this is our unit.
Jarrod: Hmm. I think that's the first time you've ever said that.
Jarrod told Brandi to bid on the unit as not to draw attention to himself from Darrell or Dave, who both would bid Jarrod up fun. Darrell was in play, but stumped when he heard a squeaky woman's voice yell the final bid. Jarrod acted incredulous and asked who won. Auctioneer Dan smiled – "Your wife." SOLD!
Darrell: What?!
Dave: She's Jarrod's wife?
Jarrod and Brandi (with the help of two assistants) dug through the locker. They did find quite a few "brand new in box" electronics which would garner a nice little profit.
Jarrod: Brandi scored a good unit. Maybe she is my good luck charm.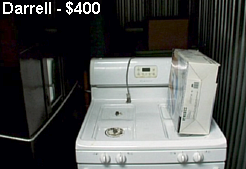 3rd Storage Unit
Tight and light. Cheap stove, armoire, boxes, and rubber bins. No one really wanted the locker.
Brandon: If I know my dad, I think he's just bidding somebody else up.
Darrell placed both hands on his head. Defeated, he won the locker at $400. Oops! He did not place a bid to win. Oh, well. Darrell and Brandon took the merchandise to sort out at a storage unit they rented (which is not uncommon for storage auction buyers). Darrell found a "like new" mini DVD player and movie posters.
Then there was that "Wow" factor. Inside a rubber band he found a coin collection. First a can that contained 418 quarters from the 40s which are 90% silver – worth about $3.95 each. Darrell uncovered a surplus amount of coin books and one pound 1986 silver coin. At appraisal, the silver coin collection valued at $4,100.
Never underestimate an appealing storage unit.
Notes:
1. Brandon Sheets (Darrell's son) made his first appearance in the interview room.
2. Laura Dotson (Auctioneer Dan's wife) made her first appearance in the interview room.
3. Showcase a bit of trivia with item such as the Bamboo Rod.
4. Brandi went into office to pay Laura for storage unit plus deposit.
5. First time Dave said, "Pukes."
Profit Scorecard:
Dave Hester: $9,203
Darrell Sheets: $5,832
Jarrod Schulz & Brandi Passante: $2,300
Where was Barry during the auction?

Riding a motorized shopping cart in the parking lot.
Please leave you creative insights in the comment box below.