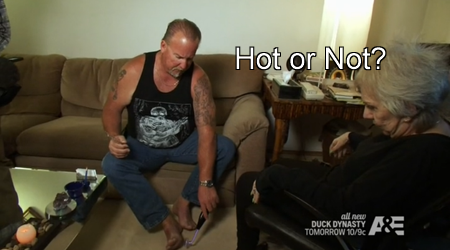 Storage Wars: Season 5, Episode 4: "Operation: Intimidation."
Ivy said today he was Mr. Un-Nice-Guy. Isn't that everyday? It seemed no one wanted to play nice today as Darrell decided Brandon's next lesson would be how to mess with Rene. Rene offered Brandon a job and called everyone amateurs.
Jarrod and Brandi's day began with a mess when their truck driver hit a tree. Damage to the truck about $1,000. It looked as if this was going to be a very un-nice, messy day.
Electric wheel chair, clothes bag, stroller, table, wood furniture, totes, mattresses and boxes. Ivy won the unit for $350.
He found DVDs, vintage jewelry, desk and dresser, and a small, locked bank. Ivy hoped there might be silver and gold inside. Wishful thinker.
Ivy took the bank to a locksmith. The locksmith informed him it was an old children's bank. He opened it in under two minutes. No gold, just coins.
Bright side? The bank itself was worth $2,000.
Ivy: It's party time!
Rack of clothes, old computer, keyboard, artwork, tripod, hard metal case, trash bags, and boxes.
Darrell and Rene bid war. Darrell outwitted the German and won at $1,200.
Darrell: I hope Brandon was taking notes, because that is how you mess with Rene.
Darrell found several containers full of surgical, stainless steel utensils. He also found a Louis Vuitton bag and a doctor's bag full of papers and…Viagra.
Darrell: I don't need Viagra. I already have a boner for this unit.
The less said about that the better.
Darrell opened up more boxes and found tools, CDs, photos, books, and Rolex watches.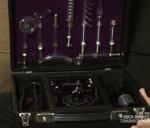 Duo then found a mystery medical box. Darrell guessed it might be a fancy marital aide. They took it a sexual therapy expert.
She told them it was Fluvita from the 20's or 30's. She valued it at between $300-$400. The mechanism sent electric shocks to stimulate pleasure to the body.
Darrell tried it on his foot. Yeah, he shocked himself. I think he burned some flesh too. Ew!
Bed, vase, computer, fan, lamps, tool box, DVDs, folding table, fish tank and boxes. Everyone started bidding on this unit. Ivy tried to intimidate everyone but Brandi wasn't phased. She won the unit for $3,400.
Brandi found an IKEA chair in an unopened box. Jarrod found a box of Disney princess collectables. The locker also had, a dresser, nightstand, washer, driver, and dining room chair.
Jarrod opened a box and saw brand new, expensive knives. He thought the blades would sell great at the Long Beach store.
Brandi: I don't think you can actually sell knives in Long Beach, because you might be accessory to murder.
Oh, my!
Jarrod insisted on taking the fish tank to appraisal. Aquarium store just a stroll from their thrift shop. The fish tank was only worth $250. Jarrod took a stroll back to his thrift store with the fish tank and a very long face.
Profit Scorecard:
Darrell Sheets: $11,030
Ivy Calvin: $2,650
Rene & Casey Nezhoda: $0
Jarrod Schulz & Brandi Passante: LOSS $-460
What do you think Jarrod and Brandi's strategy should be to get back on top?
Please leave your insightful opinions in the comment box below.