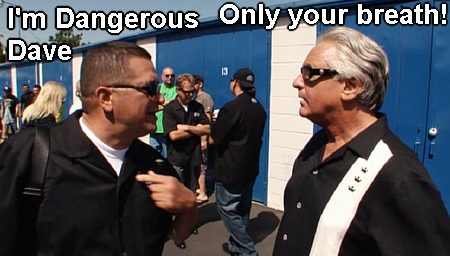 Storage Wars: Season 1, Episode 6: "All Guns to Port."
Brandi expressed her concern to Jarrod that the shelves to their thrift store were near empty. She wanted to know his game plan for the storage auction. "Buy. Make Money." Oh yeah, that reassured her.
Auction held at Long Beach meant two things to Darrell: high-priced imports or low income housing. Pendulum could not swing further between these two points. Barry rode his 1996 Harley Davidson to bring him luck. For the third time in the first season, Dave felt it necessary to flash $10K at the camera.
Dave: I don't mind being the (bleep). I've got to do what I've got to do to accomplish my goal, and I don't care what these people think about me.
Nail on the head!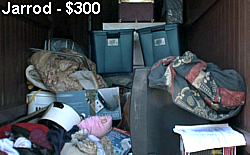 1st Storage Unit
Mountain of clothes, rubber bins, old television, household items, mattresses, and junk from someone's entire house. Brandi and Jarrod agreed to buy this locker. Dave bid them up because he thought it was fun. Darrell stated that's why they call him "Dangerous Dave," because he enjoys sticking it to people.
Jarrod: Dave just made me overpay again. Sometimes, I just hate that guy.
Cost him $300, that's $100 over its value. Brandi was upset. Jarrod told her that price was not the issue.
Brandi: Price is not the issue? Horse sh–! Price is always the issue.
As Jarrod and his crew sorted through the items, they found more trash than anything of value. Jarrod's in the dog house. They have rent and bills to pay. They need to make money, not break even.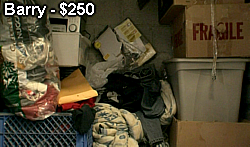 2nd Storage Unit
Small mountain of clothes, household items, rubber bins, and boxes. Both Darrell and Barry were interested in the boxes labeled fragile, which could contain antiques or valuables.
Barry almost bid against himself (always pay attention to who has the last bid). Darrell (unlike Dave) had compassion on Barry's rookie mistake and let the locker go.
Barry: That was really a little bit embarrassing. I pulled a rookie mistake.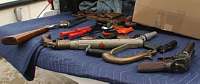 Barry had the merchandise brought to him at another location. He found box that contained several different types of flare guns, even one that belonged to the Sing Sing prison.
At appraisal, he discovered in his collection he had a line-throwing gun (shoots rope from one ship to another), a Navy 1860s pistol, and a German double-barreled World War II flare gun. Collection valued between $1,000-$2,500.
Clothes, clothes and more clothes. Ironing board, chair, filing cabinet, rubber bins, and boxes. Dave did something that was most disrespectful during this auction. While the bids still in play, he closed the door to the locker and placed his padlock.
Brandi: Cocky, Rocky.
To say the very least, Brandi. It's outrageously arrogant and disrespectful to all of the auction buyers present to do so until the auctioneer sells the storage unit. Oh, he won at a high price at $1,600 with his hubris.
Merchandise processed back at his store. Dave's crew found a diamond bracelet, cowboy boots, small tools and machinery, clothes, trains, and household items.
Profit Scorecard:
Dave Hester: $4,850
Barry Weiss: $2,250
Jarrod Schulz & Brandi Passante: $0
Darrell Sheets: $0
What did you think of Dave placing a padlock on the locker during the sell of a storage unit?
Please leave your creative opinions in the comment box below.