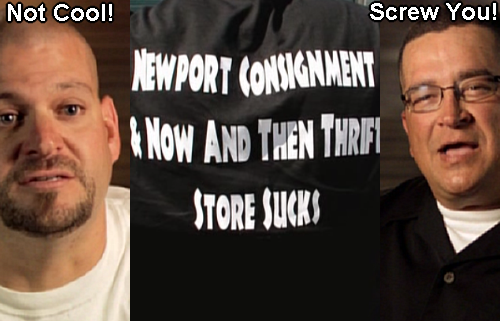 Storage Wars: Season 1, Episode 7: "Senior Center Showdown."
Dan stated the storage auction held in Homeland, which is a type of senior citizen community. Barry interested in collectibles and antiques. Jarrod interested in household items and furniture. Brandi interested in antiques and heirlooms. Dave interested in collectibles. Darrell, the optimist in him interested in war memorabilia. Pessimist in him was sure he'd find a lot of Ben-Gay.
Darrell had his son Brandon wear a T-shirt with "Newport Consignment & Now and Then Thrift Stores Sucks" printed on the back. Come on, really?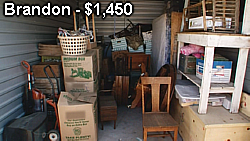 1st Storage Unit
Neatly stacked. Old furniture, old television, old mattresses, rubber bins, and boxes.
Barry explained a bit of his knowledge on wood furniture:
"Quarter sawed Oak is when the oak is solid on the bias which brings out the tiger looking stripes; for that reason it's also called Tiger Oak."
Darrel thought to have Brandon bid. Players would give his son slack. Darrell should have had the forethought not to mock the player's stores.
Dave: Nobody makes fun of me. I'm gonna make them pay for it.
Brandon won at the high price of $1,450. Jarrod waited after the auction to see if he could look inside Darrell's locker. Sorry. Hospitality for rookies left the station. Jarrod did not get the hint with the t-shirt. Only item shown out of Darrell's locker was an antique wooden telephone.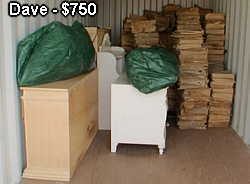 2nd Storage Unit
A few furniture pieces and stacks of old newspapers. Like a hoarders stack. Probably  hundreds or even thousands of periodicals. Brandi stunned at the bids.
Brandi: Newspapers, 700 bucks, you kidding me?
Dave won at $750. The newspapers were from The Memphis Press and The Commercial Appeal. About 3000 from each edition. That's 6000 newspapers in all (hoarder or collector, you decide). Both issues about the death of rock and roll singer, Elvis Presley.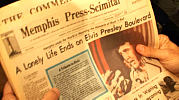 At appraisal, The Memphis Press special edition valued at $5 per paper. The Commercial Appeal printed the day after Elvis died, valued at $10 per paper. Do the math, it's staggering to say the least.
This auction was over. The following day Jarrod (without Brandi) drove to Inglewood to attend another auction. Darrell and his son Brandon also in attendance.
Darrell: Did Jarrod think he would go to an auction and I wouldn't be there, who is he kidding?
I'm there even when I'm not there.
And so began Darrell's unique phrases and vocabulary.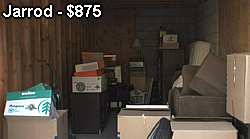 3rd Storage Unit
Furniture and shoe boxes.
In the beginning it was Darrell vs Jarrod. Darrell backed out at $300. Darrell  encouraged Jarrod to continue to bid even after Jarrod's self imposed $600 limit. Jarrod won at $875.
Whatever disagreement the two players had the day before had dissipated. That little push that Darrell gave the "Young Gun" catapulted Schulz into a buying spree. He bought two more lockers.
4th Storage Unit – $45
5th Storage Unit – $125
Brandi called. Uh, oh. She could not BELIEVE he bought a storage unit for near $900. Brandi asked if the furniture was at least decent. Jarrod's speechless. He inspected the locker. Shoe boxes empty or filled with food. He found rat pooh.
Jarrod: I can't believe I bought for $875 full of rat sh–!

Antique safe empty. Darrell came back around to see what was in Jarrod's locker (even though he had denied Jarrod that same courtesy the day before). Darrell saw the safe. Excited-mundo! Jarrod told him it was empty.
No difference. It's the SAFE that's worth money! York Safe & Lock with original brass fittings and hand-painted logo still in good condition. About 100 years old and very collectible. Darrell estimated it was worth between $2,000-$3,000.
Profit Scorecard:
Dave Hester: $89,250
Jarrod Schulz: $2,100
Darrell Sheets: $2,000
Barry Weiss: $0
Did you think it was fair for Darrell to enter Jarrod's locker but not allow Jarrod to enter his locker?
Please leave your insightful opinions in the comment box below.