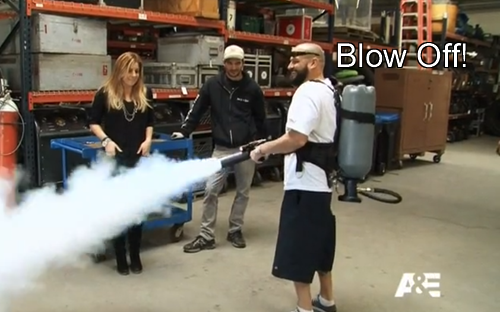 Storage Wars: Season 5, Episode 3: "Nerds of the Round Table."
Jarrod said if they didn't win a locker soon, they wouldn't be in the game much longer. Brandi urged him to be smart, not reckless. That woman has brains and looks.
Ivy declared he was on a hot streak. Rene played mind games with Darrell via text. At the parking lot, Rene gave Darrell a hug. Not a bromance. "The Gambler" warned Rene one more touch –  he'd punch. I'd watch out if I were you Rene.
Fan, trashcan, cooler, chair, audio equipment, furniture basketballs, sport shoes, golf clubs, boxes and mouth moisturizer. Really? Mouth moisturizer? Weird.
Darrell wanted Brandon to learn how to have warm fuzzy feelings for a good locker. Brandon took point on and bid war with Rene. The kid won at $500.
Darrell and Brandon found a Bissell vacuum, school supplies, and books. Darrell found a breastplate, helmet, and foam sword inside a rubber container. Darrell tried on the helmet and his hair was caught on the chain. He couldn't get the helmet off.
Brandon: Just pull, you ain't got that much hair left anyways.
Not very sympathetic, Brandon.
Darrell and Brandon took the armor to LARP (Live Action Role Playing) expert, Walter. He said the armor would be allowed for LARPing, however it's costume armor. Not genuine medieval wear. Walter valued it at $400.
Darrell and Brandon decided to have some fun and joined the LARP game in progress. Darrell "Braveheart" won the battle.
Chair, couch, step ladder, lamp, pool cue, microwave, Wii, DJ Hero 2, television, surround system and boxes. Everyone was interested in this unit. Jarrod and Brandi won it for $1,000.
Jarrod found a set of four patio chairs. Brandi discovered beer pong equipment.
 Brandi: This definitely looks like a party locker, but if we don't start making some money, the party's over.
Jarrod found what looked like a flame thrower. A gas tank near which attached to the item. The "Young Guns" took the contraption to Ryan, an special effects expert. He informed them it was a portable fog gun with Co2 tank. It's value at $1,000. Did it work? Just ask Brandi. Jarrod smoked her!
Table saw, refrigerator, speakers, tires, old TV, pictures, bike, craftsmen tools, fishing rod, musical instruments, plastic bags and boxes. Darrell and Rene butted heads again. Darrell inflated the bid which forced Rene to pay $1,300.
Rene and Casey found a coat rack, chop saw, drill, helmet and pool table. Rene open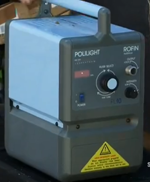 ed a plastic container and found laser device. He guessed it might be for forensic science.
The couple took the laser device to Don, a forensic science professor. He told them it was a light source that produced different colors of light for examination of evidence. Don valued it at $2,500.
Rene: Maybe I should mess with Darrell at every auction.
Profit Scorecard:
Rene & Casey Nezhoda: $3,700
Jarrod Schulz & Brandi Passante: $700
Darrell Sheets: $365
Ivy Calvin: $0
What did you think of Darrell and Brandon's role playing act?
Please leave your insightful opinions in the comment box below.