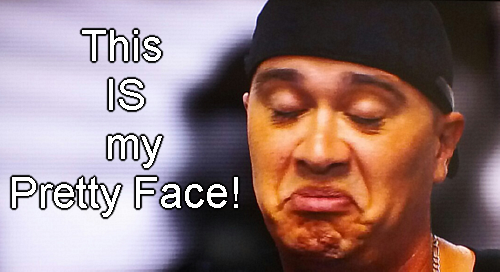 Storage Wars: New York: Season 2, Episode 14: "A Few Good Bids."
Little rain. Not enough to keep John Luke from his favorite knish in New Jersey. Joe P out for some 'fresh meat' (metaphorically). Mike out for some big-time industrial equipment. Candy and Courtney out for clean rooms with good stuff. Chris and Tad, well, they were out of it as Chris once again got lost on his way to the auction. Guys, it was only a ten minutes drive.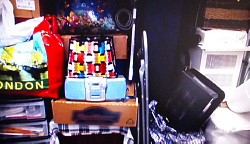 1st Room
Nice and neat. Comforter, cheap boxed sofa, hope chest, boxes, rubber container, air conditioner, baskets, end tables, and miscellaneous. That storage unit was exactly what Candy and Courtney wanted, BUT, so did Joe P. Oh, and he make the gals pay, or overpay. C&C won at $1,800.
Candy: Bidding $1,800 for this locker was a little dangerous, but danger is our middle name.

Riiigh! You hold that thought, girl friend. Courtney took out a few nice wooden chairs from the room. Candy played with an old Remington typewriter. Costume jewelry, custom leather folding chair, chandelier, glass table top, and the room continued with to overflow with quality merchandise.
Unique find was a cylinder two-piece brass object. Ice ball mold used in the cocktail industry to create perfect ice balls for drinks. Had a few nicks. Held a value of $800.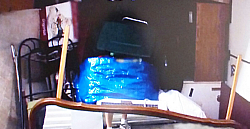 2nd Room
Mirror, refrigerator, cheap furniture, and boxes in disarray.
Tad: What's the advantage on an advantage if we don't take advantage of our home field advantage?
Riiight! If that wasn't confusing enough, Chris and Tad would once again bid against themselves. They need a "designated bidder." I vote for Dotty the dog. The guys won at $500.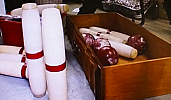 Couple of metal end table, rubber tub full of shoes, two dressers, and candle pin bowling set. Tougher to knock down the candle pins compared to regular bowling pins. Not vintage, though. Appraiser stated the pins were about 10 years old. Valued at $100. So much for home field advantage, advantage… uh, what Tad said, yeah.
3rd Room
Semi-organized and HUGE. Ton of boxes in front and office equipment in the back. Mike wanted this room and no one would stand in his way, well, almost no one. Joe P called a friend to see how difficult it would be to move the merchandise. Too late for that that return call. Mike stole the room for $600.
Mike: I'm holding the golden goose and any other bird that says money.

Riiight! Have no idea what that means. Time clocks, boxes and boxes of flat screen monitors, executive desk, 40 computers, all-in-one computers, cubicles, box of headsets, and a stenotype machine used in courtrooms.
Mike took the machine to a courtroom. Boy, was Mike ever nervous (way too many childhood memories, so we'll keep it at that). He had a student stenotype machine valued at $1,200.
Profit Scorecard:
Mike Braiotta: $12,660
Chris Morelli & Tad Eaton: $880
Candy Olsen & Courtney Wagner: $110
Joe P: $0
Who do you think had the best quote of the day?
Please leave your insightful opinions in the comment box below.