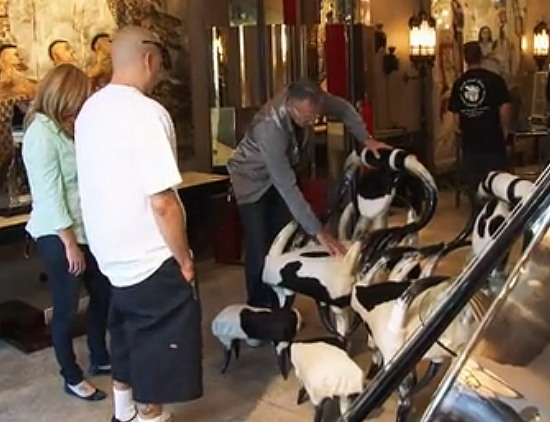 Storage Wars: Season 3, Episode 30: "Still Nobody's Vault But Mine."
Second half of the 100-vault auction in Chatsworth, California with fifty vaults sold.
Many hobbyist left but the regulars and two new players still present: Barry, Jarrod, Brandi, Darrell, Ivy, Herb and Mike, and the late Mark Balelo.
Ivy stated it would take endurance, stamina and confidence.
It appeared Brandi was still in the game.
Jarrod: You still feeling confident?
Brandi: I'm always confident. As long as I have deodorant on, I'm good.
Whatever works, Brandi. Fifty lockers sold, fifty to go. On with the show…
First Lot: 5-Vaults
Thrift store haven. Furniture, rug, neatly stacked boxes, and much more. Barry wanted to bid for "gits & shiggles." If you are unfamiliar with the term, I'll give you the definition, in a minute. Barry bid up the vaults, but he went too far. He was within a hair's breadth for the win. Jarrod out bid him at last call at $225 x 5 = $1,125.
Breathe, Barry. Breathe.
Second lot: 4-Vaults
Box spring, furniture, carefully packed items. Darrell spotted what he thought was artwork very well packaged at the back of the crate. Boasted that he was known as the "Art Dealer."
Since when? We'll see about that.
Bid war between Jarrod and Darrell, but nothing would stop "The Gambler" from fine art. He won at $500 x 4 = $2,000. Hope you find a Monet or Rembrandt.
Third Lot: 1-Vault
Clothes, boxes, luggage, all thrown together inside the crate. What a mess. Ivy won the single vault at $275. ONE vault. That's it, Ivy? As he dug through his crate he accidentally dropped and broke some items. It was amusing even to him.
Fifth Lot: 1-Vault
In a word – horrible. Barry bid for gits & shiggles, but before I give you the definition, it was MMA vs "The Collector." Barry won at $120.
Barry found decent furniture in the last vault, but nothing worthy of appraisal. Ivy however did find snake hunting gear which he took to an expert. One hook pole and grasp pole valued at $100. Two skeletal snakes inside displays cases also appraised at $100. Ivy didn't make bank, but he didn't go broke either.
Darrell had his crates unloaded at his warehouse. He wanted Kimber to see how a real man adds. He inflated the prices of the furniture to impress his lady friend. Artwork  he thought was in the back of the crate – a mirror.  He'll now be known as the "Mirror Dealer."
Best catch of the day, hats off to Jarrod and Brandi. Was it a Picasso? Furniture from the 1800s? Vintage jewelry from Tiffany's? No, even better.
A freakin' awesome pair of Texas Steer Horn chairs and ottomans. Antique expert Dennis stated the unique furniture was modern. Made around the 1980s. Very well made. Very collectible. Valued at $3,800 for the pair – Yeehaw!
Profit Scorecard:
Jarrod Schulz & Brandi Passante: $3,975
Darrell Sheets: $1,175
Ivy Calvin: $480
Barry Weiss: $230
Oh, and gits & shiggles means for the Hell of it.
Please leave your creative thoughts in the comment box below.