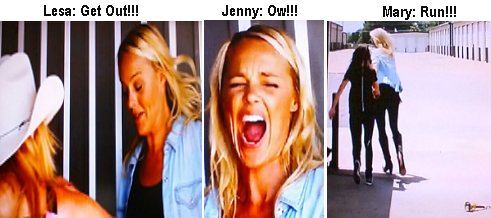 Storage Wars: Texas: Season 3, Episode 8: "Built for Pleasure not Speed."
Ricky's sources told him that there could be collectibles and antiques at the auction in Longview. After five hours of driving, Bubba couldn't feel his left butt cheek (not that it's relevant). Jenny told Mary they needed more inventory for both their stores.
Mary: I may be small, but today I'm thinking BIG!
Hold that thought Mary while I introduce the new player of the day. His name, Rudy Castro. He's a cross between a bad "B" mafia movie character and a Spaghetti Western. He cleaned his fingernails with a knife. Ew!
Then there was Lesa. She's about to open a new store and she needed inventory. Her presence as welcomed as rain at a Texas barbeque.
Ricky: Lesa brings happiness to an auction like a steer brings milk.
He said it, not me.
1st Unit
Violin, bar stools, rocking chair, chairs, lamps, boxes, and more. Everyone wanted this locker. When Lesa heard Jenny and Mary talking as teammates, she was stupefied.
Lesa: Hold the phone. Are they like a team now? Is this "bitch brigade" for real?
Yep, Lesa, and you weren't invited. Ricky thought he had the storage unit at $1,700, but then Lesa placed a bid. Bad move because he DROPPED that locker on her at $2,150! She got played. Not wanting to go home empty-handed, Jenny suggested to Mary that they buy a couple of items from Lesa.
BAD idea.
How did Lesa received the Jen-Mar team? She kicked them out of her "stuff" and then threw a lamp at the gals. Like I said, that was a bad idea.
What is in Lesa's storage unit? Box full of collectibles. Organ with broken keys and junk. Jerry found an antique tabulating machine made in 1918. Neither Lesa nor Jerry knew the definition of the word "tabulating."
Tabulate: To rank, group, sort, or classify.
Appraiser stated this tabulating system used for the census (official numbering of people in the US). Could calculate men, women or children. Appraisers stated the machine could even calculate how long Lesa and Jerry had been married.
SLAP THE DOG AND SPIT IN THE FIRE!
Oh, dear Lord did Lesa and Jerry both have a cow, most especially Jerry who said, "Hell no" that he would NEVER be married to Lesa. Appraisers were stupefied (they had no idea the two weren't a couple). Okay, back to the machine. It's missing some pieces, but still valued at $600-$800.
Lesa: That will keep me in cheap perfume and booze for at least a month.
Oh, so many puns come to mind, yet so little space on this blog.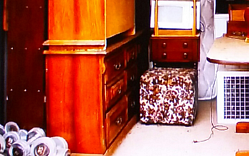 2nd Unit
Furniture, mattress, table, weights, rug, washer/dryer, small air conditioner, benches, boxes and more. Jenny thought to mock Lesa by mimicking her deep voice: "Mary!" And she said it twice. Ricky moved out of the way, "I'm liable to get shot."
Ricky managed to win the storage unit for $700. Time for the "goat brothers"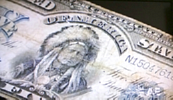 (Lesa's words, not mine) to unload the locker. Sofa, coffee tables, dovetail drawer, and one unique find.
Framed $5 bill with an image of an Native American Indian. At appraisal it was a $5 silver certificate with the image of Chief Running Antelope (who at one time was a close adviser to Sitting Bull). The $5 bill however not in good condition; therefore valued around $300.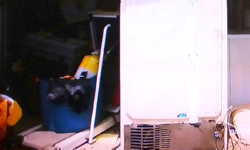 3rd Unit
Tackle box, archery gear, washer, dryer, refrigerator, treadmill, and miscellaneous items. Honestly, no one really wanted this unappealing storage unit. New guy Rudy won at $300.

Rudy appraised the value of the refrigerator and washer at $300 each. Usually you'll find them on the market for half that. He found a knife kit for gutting deer (gah!).
His unique find was a crossbow with a rod used for fishing. Appraiser untangled the line and yes, it worked. Valued at $450.
Profit Scorecard:
Rudy Castro:$1,050
Ricky Smith & Bubba Smith: $575
Lesa Lewis: $400
Jenny Grumbles & Mary Padian : $0
Do you think under Lesa's rough exterior she's really a nice person?
Please leave your thoughts about this episode in the comment box below.