Storage Wars: Season 1, Episode 1: "High Noon in the High Desert."
Introducing the mother of all TV reality auction series, Storage Wars. Original title credits for the auction hunters as follows:
Dave Hester – "The Mogul"
Darrell Sheets – "The Gambler"
Jarrod Schulz – "The Young Gun"
Barry Weiss – "The Collector"
Auctioneer Dan Dotson and Brandi Passante included in the credits thereafter. Each player introduced himself:
Jarrod Schulz: "I've been an auction buyer for two years. I'm kind of the underdog. I've got to be a little more feisty, and a little more aggressive. When I see a unit I want, I go for it, I get it."
David Hester: "I've been buying storage units for 20 years. When I show up to an auction its like, "Here comes that Assh—e, the prices just went up."
Darrell Sheets: "I'm a buyer by trade. I love buying storage shits. It's my addiction."
Barry Weiss: "I've been a collector of antiques since I've been 15-years old. Storage auctions is really something that is new to me. I am excited about the possibilities of what we may find."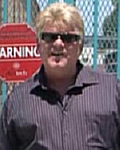 Auctioneer Dan Dotson shouted the rules to the storage auction:
1. Cash Only Sale
2. All Sales are Final
3. Five Minute Inspection
4. No Stepping inside the Unit
Note: Brandon Sheets and Laura Dotson were present; Brandi was absent.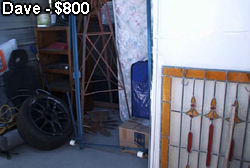 1st Storage Unit
Refrigerator, stained glass, a tire, two bucket seats to a car, mattress, pedals to a possible organ, boxes and other miscellaneous items. Dave (who enjoyed flashing $10K before the auction) won with a final "Yuup" bid at $800.
Dave bet that was a Hammond B3 organ in the locker, which would be worth thousands. He brought an associate named Steve who gave him advice during the auction.
Darrell mentioned to Dave the Leslie speakers alone to the Hammond organ would pay for the unit. Darrell did not bid to extend an olive branch to Dave. (Bad move, Darrell.)
Atomic age type 1960s dining set. Darrell liked it. Dave liked it. Barry liked it.
Jarrod: I don't know sh– about those table and chairs.
Jarrod appeared novice-green when it came to merchandise. Dave, though somewhat interested in the locker, purposefully bid up Darrell. The olive branch didn't work. Darrell won at $450. Yes, it was an Atomic dining set.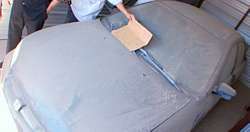 Storage Unit
Jarrod won a car inside a unit for an unknown amount. What you see in the photo is a layer of dust on the car; not a gray car cover. Jarrod spent $1,000 at auction.
Barry: Helen Keller would have passed on that car.
That's the end of the auction, however more storage units up for sale that were not filmed.
Barry didn't win a storage unit. Next day he attended a vault auction that

contained merchandise from rapper Suge Knight. But he didn't bid on a vault but instead on a box which he won for $340.
He did find custom-made clothing with custom tags for Suge Knight. Of course, Barry put some of the items up for sale immediately. He held onto the red coat for appraisal. Appraised at $3000-$5000.
Darrell returned to his home. He did not own a thrift store or warehouse. Also still married at that time. He did show his Picasso sketches. Shared photos of his 1991 purchase of the top 10 world's collection of comic books.

Darrell flipped the comic book collection for $130,000. Had he been patient and sold off the comic books separately; he might have made millions. Patience is a virtue.
Jarrod evidently bought more than the car because he had a box truck unload merchandise at his Now and Then thrift store.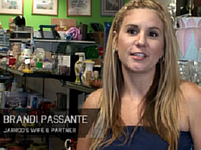 Brandi Passante: "I'm Brandi. I'm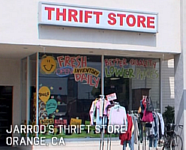 Jarrod's wife and we own Now and Then secondhand store."
We now know she's not married to Jarrod. Notice the writing on the photo as it labeled her as wife and partner.
Brandi crunched the numbers and summoned "JM" into their office. He's in the hot seat. She informed him that the $1,000 he spent yesterday on the merchandise; they would not see a return. Doh!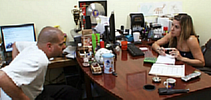 Jarrod had the Honda appraised (not shown) and it was valued at $2,400.
Brandi: Looks like we're gonna make some money on this unit. He was right, for once.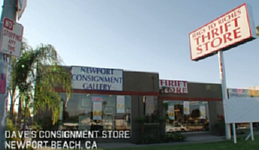 Dave Hester hauled his items

back to his Rags to Riches thrift store and to his Newport Consignment Gallery. Buildings stood side-by-side.
The Hammond organ was not the model that would bring in the big money.
But Dave did strike a treasure find with a bag full of old baseball cards; each card placed inside a card case.
Notes:
People leaned half their bodies right into the storage unit which isn't permitted today
People continue to look into the storage unit even after the auction began
Possible treasures were highlighted by the narrator during the episode such as the Hammond organ and the Atomic Age furniture
Crowds were larger and appeared to be real auction hunters and not just background actors
Only one item was appraised
Dave Hester hollered only one "Yuup"


Oh, and yes, Barry began his shenanigans straight up when he took the facility cart and popped a wheelie.
Profit Scorecard:
Barry Weiss: $9,000
Dave Hester: $1,987
Darrell Sheets: $650
Jarrod Schulz and Brandi Passante: $1,400
What did you think of the first episode of the original Storage Wars?
Please leave your creative thoughts in the comment box below.