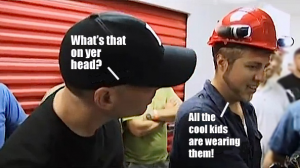 Storage Wars: Canada: Season 1, Episode 8: "Fashion Passion."
A wealthy community means potentially wealthy storage units. Everybody showed up with their game faces and their wallets packed.
Ursula was ready to draw blood in her quest for high-end fashion. She wanted to fill her online store and this auction offered that possibility.
Rick and Cindy had a five-minute walk to the storage facility. They liked the idea of scoring good merchandise so close to home.
Roy was ready to turn a profit on one of the lockers. He knew the potential the location afforded them all.
Paul and Bogart were ready, but Paul still felt Bogart needed some help. He bought Bogie a hard hat equipped with double flashlights.  Game on.
An industrial locker. Janitorial equipment and tools. Clean… and no garbage.
Roy was very interested in this unit. Rick, Cindy, Paul, and Ursula? Not so much.
But the other people apparently were interested in this unit. After a bit of back 'n forth, Roy grabbed it for $1,100
Roy: Wanted to show Rick and Cindy they don't own this town.  I own this country.
But that was okay by Rick…
Rick: Welcome to our neighborhood, Roy. Thanks for over-spending. PLEASE come again.
Roy found some okay stuff, but nothing mind blowing. He took the window washer's kit and the ropes he found to an expert who let him know what they were worth.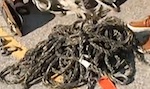 Just Roy's luck: there's an expiration date on ropes. They were worthless.
Roy: I have just enough rope to hang myself.
2nd Storage Unit
Dresses and shoes. Lots of designers wear. This had Ursula's name all over it.
But when the bid hit $2,500, Ursula was o-u-t!  She was bummed. Real bummed.  But she was already waaaay past her cap.
Cindy: I actually feel bad for Ursula.  Weird.
Filled with electronics. A few mystery boxes as well.  Paul asked Bogart to make an assessment on this unit. Were they in or out? Bogie wasn't sure.
Paul: It's not how deep you go fishing; it's how you wiggle the worm.
Bogart was left speechless. Let's face it; Paul's sayings often make NO sense.
Apparently, Bogart was 'in'. He grabbed the unit for $650.
Cindy asked Bogie if he was crazy. Bogart had the last laugh though. With all the great electronics in the unit, they quickly made their money back.
It was a little electronic mystery item that could potentially put him and Paul into the black.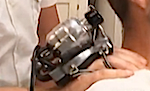 A barber friend of Paul's let them know the Oster Stim-U-Lax was invented in the 1930s. It was most popular in the 1950s for massaging the scalp and shoulders.
He then gave Bogart a free sample.
Bogart: I had no idea a vibrator could feel so good.
The barber said it was worth more to a barber who collected cool antique items, but Paul could get about $75 for it.
The boys bartered for it. That was okay with Bogie.
A little bit of this, a little bit of that. A stove, a table, and a few other nice house hold items.
Roy and Paul and Bogart were gonna give this one a pass. So after a quick bid, Ursula walked away with it for $500.
Ursula: It may not be Mr. Right, but it's Mr. Right Now.
How can you argue with logic like that?
She found an antique ice cream churn. She then took it to Chapman's Ice Cream Company, which are the largest Independent Ice cream producers in the country.
The Ice Cream  experts said her White Mountain Freezer was worth around $100.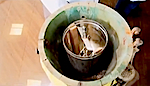 Orrrrr… $150 worth of ice cream?
So Ursula loaded up her car with Tutti Frutti and headed home.
Ursula: And thus, here ends my diet.
PROFIT SCORECARD:
Ursula Stolf: $1,450
Paul & Bogart Kenny:  $775
Roy Dirnbeck: $495
Cindy Hayden & Rick Coffill: $0
Ursula really wanted that unit. But had to let go due to its expense. Have you ever been sure you were going to buy something which suddenly exceeded your wallet?
Please leave your creative comments in the box below.