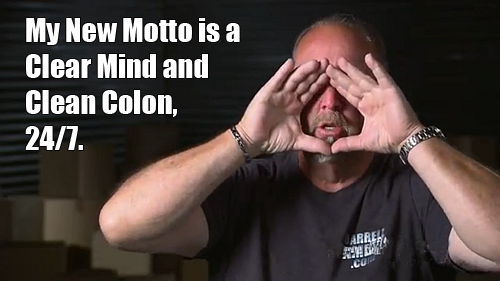 Storage Wars: Season 5, Episode 10: "Zen Masters of the Universe."
Darrell was all about Zen. Kimber taught him the Yoga tree pose. She asked him how he felt.
He said, "I need to poop."
Dan and Laura Dotson lost on the way to auction. Not according to Laura. Dan just needed to make a u-turn up ahead.
That's lost, Laura.
Jarrod told Brandi that she would pick the storage units and that he would set the budgets. The only rule – Brandi had to pick at least one locker. If Jarrod saw one that he liked, he'd nudge her and she'd pick that one.
Brandi: Great to be part of the team, Jarrod.
Rene arrived at auction behind the wheel of his box truck. He would load the merchandise as well. Darell, not impressed. Ivy in la-la land in his mind.
Furniture, ceiling fans, commercial fryer, washer, dryer, suitcases, entertainment center, mini-fridge, bird cage, and trash bags. Ivy won the locker for $1,300.
Ivy found a portable karaoke machine, keg dispenser, and an electric guitar.
He man-handled heavy furniture out of the locker. That's a former MMA fighter, for sure. Ivy spotted a metal case. Strange tuning instruments inside.
Ivy took the musical items to a church. Appraiser stated the items were tone chimes which were used to teach people notes on the scale. Valued set at $1,100.
Metal box with KISS (1980s rock band) written on the side, arcade game, comic books, collectable toys, and tools.
MONSTER BID WAR!
Dan quickly took the bids to $1,000, $5,000, and to $10,000. Darrell won at $15,750; the most money ever spent on a locker on Storage Wars.
KISS box contained costumes, no value, but the box itself very collectible. Darrell and Brandon uncovered box after box of collectible vintage toys. Original package. Mint condition.
Darrell: This locker just goes on, and on, and on, and on, and on, and on. It's the Holy Grail of Toys!
Comic books neatly bagged and boxed. Kimber added the tally. About $91,000 roughly in collectibles.
The highest profit ever in history of Storage Wars. Way to go, Darrell.
Tool box, chairs, car seat, paper towels, battery charger, car rims, and boxes. Rene won the locker for $1,800.
He continued his hot streak and won the next two storage units.
4th Storage Unit – $550
5th Storage Unit – $220
Rene opened the tool box. Delighted to see it packed with tools in great condition.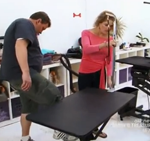 He also discovered several swords from sabre to medieval style.
The German however stumped when he put together a table. Casey examined it. Got it! Groom table for small pets. Rene brushed his hair with a pet brush.
Ew!
Couple took the table to  Jeff, the "Fur Master." He gave the table a once over. Study. Good quality.
Rene: You hang the dog right here?
Both Jeff and Casey stupified. No, Rene. You don't "hang" pets. You hook their lease to the table. Sigh. Table valued at $600.
Darrell so far has won 3 Holy Grail storage units on the show.
Profit Scorecard:
Darrell Sheets: $75,250
Rene Nezhoda & Casey Nezhoda:  $3,840
Ivy Calvin: $1,155
Jarrod Schulz & Brandi Passante: $0
How much would you be willing to pay for that storage unit full of collectible toys?
Please leave your insightful opinions in the comment box below.